Up and down – and up again …
Rows over royalties
Inaugurating the Valhall field
Valhall began production on 1 October in 1982, making Amoco Norway Oil Company – as operator for the Amoco group – the fourth company to bring a field on stream off Norway.
Three installations linked by bridges formed the "Valhall village". These were a quarters platform with 160 permanent and 48 temporary berths, a drilling facility with 24 wells and a production structure.
Two 20-inch pipelines carried oil and gas from the field for 36 kilometres to the Ekofisk centre, where a new riser platform provided the tie-in to the onward transport system.
Gas delivered to the Ekofisk tank had its pressure raised by operator Phillips Petroleum before being piped to Emden in Germany and sold to European customers. The oil flowed through the Norpipe line to Teesside in the UK.
A total of NOK 6 billion was invested in the development, NOK 3 billion above the initial estimate. The project was also two years behind the original schedule. That says something about the difficulty of planning and calculating big offshore projects.[REMOVE]Fotnote: Stavanger Aftenblad , 2 October 1982, "Valhall i produksjon to år etter planen".
Official inauguration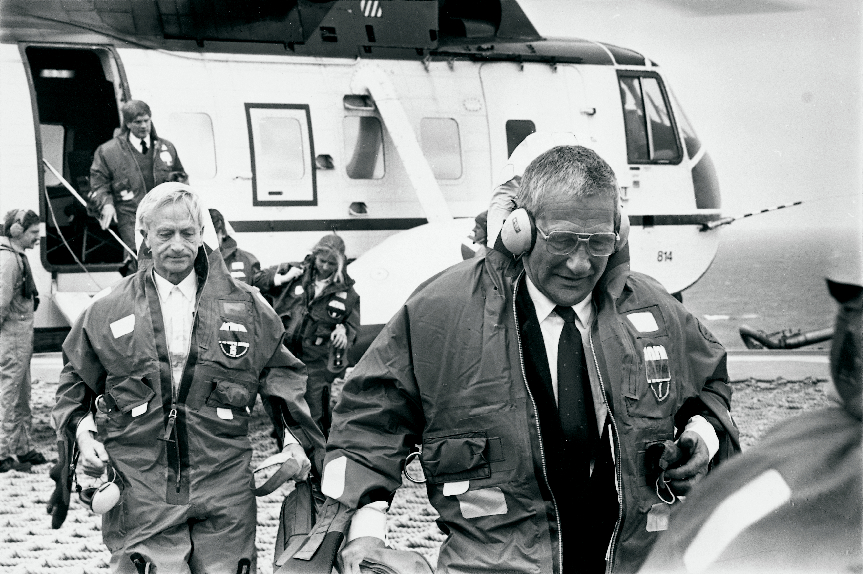 Valhall was officially inaugurated on 26 March 1983 by Kari Thu, mayor of Stavanger. She unveiled a memorial plaque in the mess hall on the quarters platform in the presence of 75 guests flown in by helicopter.
Norwegian petroleum minister Vidkunn Hveding, local government minister Arne Rettedal, B Robert (Dick) Schlup, managing director of Amoco Norway, and J Boswell, head of Amoco's international exploration and production division in Chicago, were the most prominent members of her audience.
The three platform managers were given the job of showing the guests around and explaining the production process.[REMOVE]Fotnote: Stavanger Aftenblad , 27 May 1983, "Problembarnet på norsk sokkel".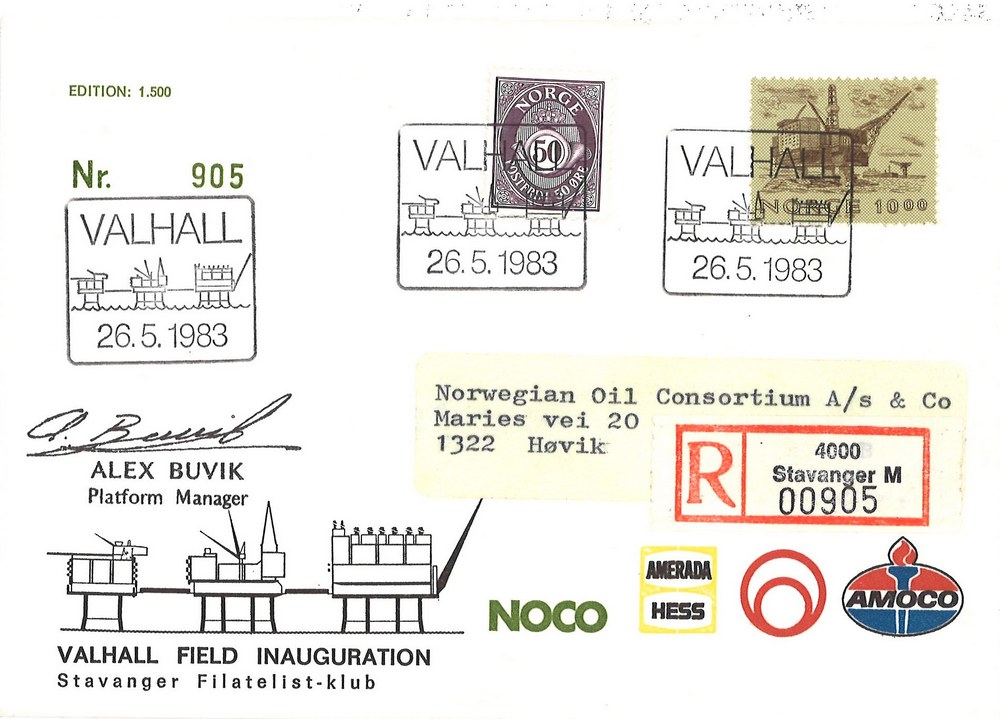 To celebrate the event, a temporary post office was opened on Valhall. Two postal staff from Stavanger brought out 4-5 000 first-day covers worth NOK 30 000 for sale on the inaugural day. Most of the personnel on the field centre took the opportunity to send letters in these envelopes.
A similar measure had been implemented with great success when the Statfjord A and B platforms further north on the Norwegian continental shelf were inaugurated.
The Stavanger Philatelist Club was behind the initiative – and naturally accounted for the largest number of advance orders. German stamp collectors also queued up to secure first-day covers from North Sea installations.[REMOVE]Fotnote: Stavanger Aftenblad , 27 May 1983, "Profitabelt postkontor".
A banquet for 240 guests was held at the Stavanger Forum venue that evening, with representatives of the Norwegian government and the international oil industry in attendance.
Schlup had ordered that no expense should be spared, and the organising committee took him at his word. The tables were covered with white cloths, and first-class cuisine was served by elegant waiters.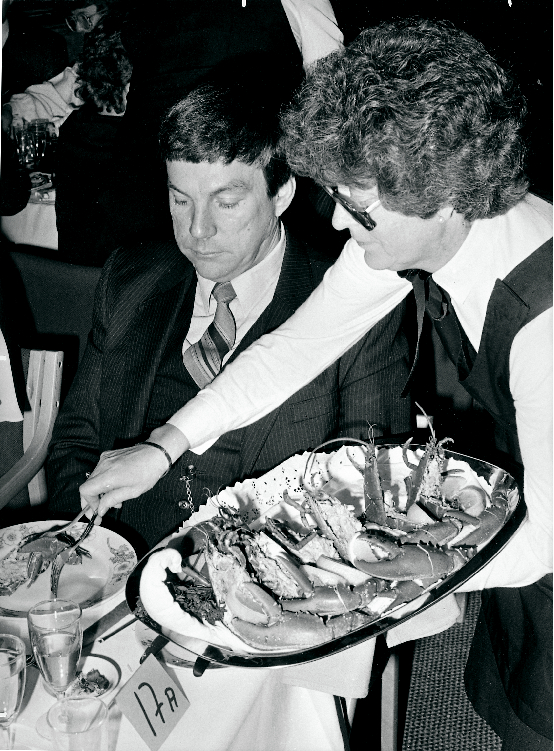 The menu began with a welcoming glass of Veuve Clicquot gold label vintage brut champagne. Pâté de foie gras was served as a starter, followed by more champagne, local lobster from Kvitsøy as the main course, and wild strawberries flown in from France for dessert. Coffee, cakes, brandy or liqueurs completed the meal.
This was probably not exactly how the dead Norse warriors feasted in Valhalla in order to restore their energies after a day's fighting. But Odin's hall provided an abundance of food and drink – so there was certainly a parallel in that respect.
Schlup did not like giving speeches. In an unusual move, therefore, a seven-minute slide show was presented. This made advanced use of the technology of the day, using 12 projectors, music and other sound effects to convey images from various operations on Valhall. As soon as the show had ended, a spotlight picked out Schlup, who raised his champaign glass with the words "Welcome and skål!". This is reckoned to have been the shortest and most expensive speech of welcome in Amoco's history.[REMOVE]Fotnote: Rasen, Bjørn (2007): LF6A. Valhall at 25 … and it's only the beginning, 76-79.
A similar celebration was staged for employees a few weeks later.   The entertainment included classical music from Norwegian violinist Arve Tellefsen, accompanied by pianist Kåre Ørnung, while entertainers Dizzy Tunes were responsible for the livelier sequences. Singer Benny Borg tried to charm Thu with his Elvis impression – and she ended up with his red scarf.[REMOVE]Fotnote: Stavanger Aftenblad , 27 May 1983, "Kari ble bedåret".
Production on Valhall had started in a small way as early as March.[REMOVE]Fotnote: VG , 9 March 1983, "Milliard-svikt i Nordsjøen". But problems were encountered, and the field's failure to yield more than a third of the planned volume of oil when the inauguration took place cast a damper on the proceedings. These difficulties were gradually resolved during the summer.[REMOVE]Fotnote: Aftenposten , 26 October 1983, "Oljeproduksjonen opp 23 prosent".
Otherwise, most aspects were exemplary at start-up – viewed from a Norwegian perspective. All of the roughly 180-200 people working on the field centre came from Norway. So the platforms resounded with the Jæren dialect of south-west Norway, rather than the twang of Texan English.
Valhall also had a certain proportion of female workers in typical male professions from the start, including instrument mechanics and operators.[REMOVE]Fotnote: Stavanger Aftenblad , 8 July 1983, "En uke som lærling i oljevirksomheten".
Up and down – and up again …
Rows over royalties