Valhall developments year by year
Measures to combat Valhall subsidence
New changes – Offshore People Strategy and GO4F
BP Norge initiated yet another set of changes around 2000 to reduce operating costs. Through the Offshore People Strategy (OPS) and GO for the Future (GO4F) processes, the company sought to safeguard its presence in Norway by tailoring costs, expertise and staffing.
Change processes, restructuring and downsizing are common enough in the oil industry, and BP was not alone in the desire to reduce its operating costs. A number of players on the Norwegian continental shelf (NCS), including Norske Shell and Norsk Hydro, warned of big staffing reductions at the start of the new millennium.
With an economic downturn looming, several oil companies cut their exploration and development workforces and then launched big restructuring projects. They all used the same justification – disappointing exploration results, increased costs and tougher global competition.[REMOVE]Fotnote: Adresseavisen , 20 May 2003, "BP kutter rått".
The world economy around 2000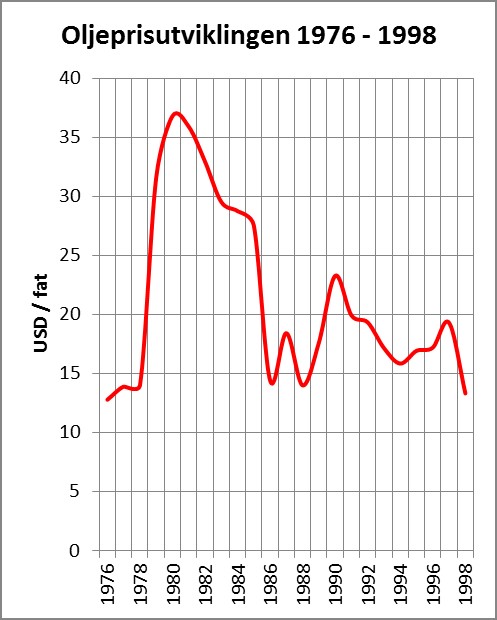 Oilprices slumped to a historic low after the Asian financial crisis in 1997, and averaged USD 13 per barrel the following year. That put pressure on profits in the oil and gas companies, and contributed to a wave of restructuring and mergers in the late 1990s. Attention in most companies was concentrated on short-term profitability at the expense of long-term exploration activity and business development.
While oil prices recovered, the world economy was afflicted by several negative conditions – war, terrorism and global epidemics, particularly Sars – which helped to generate uncertainty. International stock markets fell again in 2001 after the "dotcom" boom collapsed, and contributed to a marked fall in gross domestic product (GDP) for the OECD area in 2003.
The NCS was affected by a shortage of exploration acreage, weak finding results and increased pressure on short-term profitability. Rising oil prices failed to stimulate activity. Lack of discoveries and little attractive acreage on offer meant that several international oil companies – including BP and Esso – ignored Norway's 18th licensing round in 2003-04.
Flexible employment contracts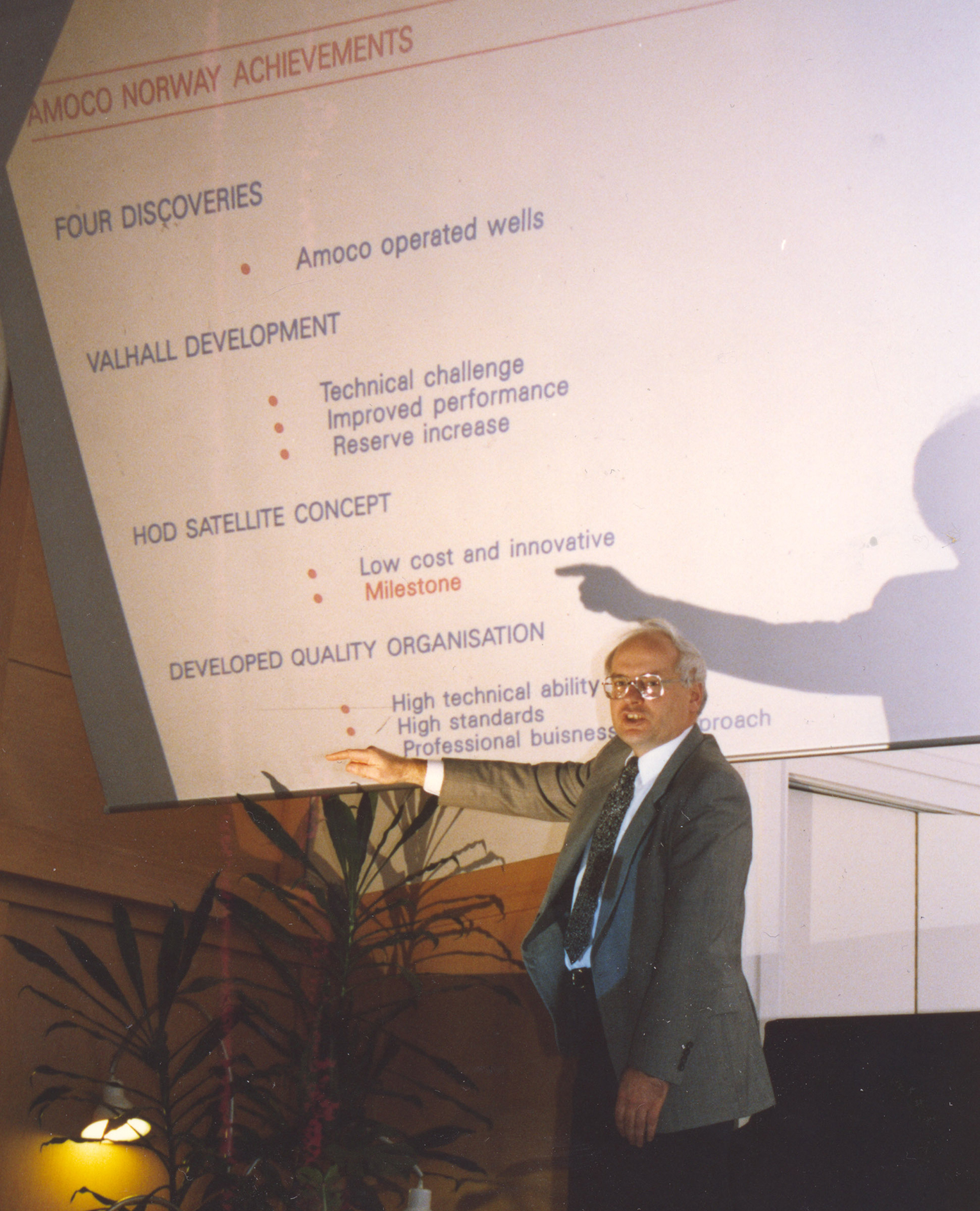 Flexibility had been a mantra in Amoco Norway since Bob Ericsson served as chief executive in the late 1980s, and was maintained by BP Amoco (which changed its name to BP in 2001).
A new strategy adopted by the company in 2001 involved reviewing its future expertise requirements, improving management and making better use of its formal collaboration bodies. In addition, cooperation between senior executives, unions and safety delegates was to be enhanced, and challenges posed by the high average age of offshore employees would be taken seriously. These proposals were prompted by a growth strategy for the company in Norway based on exploration, acquisitions and improved utilisations of the fields at the southern end of the NCS.
They also reflected a recognition that BP's existing production technology was relatively old-fashioned and ripe for modernisation. The company had to be tailored to meet future requirements for expertise and flexibility in order to safeguard jobs and continued operation. All this made it necessary to create a new organisation and eliminate the distinction between offshore and land-based activities and between the individual platforms.[REMOVE]Fotnote: Presentation by BP.
Substantial investment to boost production from the old fields was made, with the Valhall water injection project particularly important in that context. Provision was also made for developing new expertise among experienced personnel by offering further education. A number of offshore workers took advantage of an offer to acquire additional skill qualifications, for example,
If the idea had been to create a more flexible organisation based on teamwork and multiskilling, however, this programme was not entirely successful. The majority taking further education studied to be chemical process technicians. While that gave those working offshore greater in-depth understanding, the idea of being able to work across disciplines or departments found only limited application.
But the controversial element in the strategy related to another aspect of the flexibility concept – recruiting for Valhall, Ula and Gyda and creating a more adaptable operations organisation.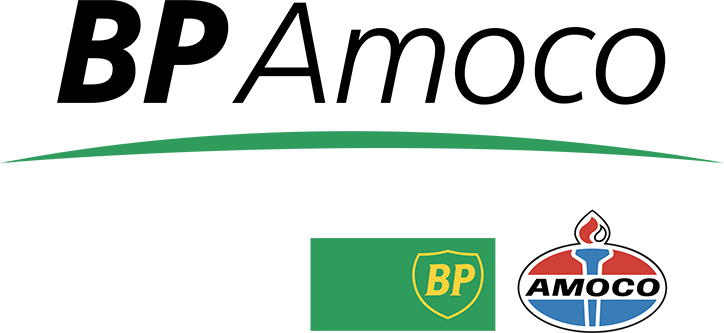 The Amoco-BP merger had been completed by 2000, and the new structure was in place. Although several hundred employees of the two companies had been forced to find new jobs, the company needed more workers as early as 2001.
A new recruitment approach had been developed by BP Amoco in advance under the OPS label, which aimed to create greater organisational flexibility with more adaptable personnel. To achieve this, it was resolved that new recruits would be employed by the company on a general basis and not, as previously, either offshore or on land.
This would allow BP to require that people moved between these two areas, depending on what the company regarded as the most appropriate deployment. But one consequence was that new employees had to live in or be willing to move to the Stavanger region. Personnel were sought in the process, automation, electrical and mechanical disciplines. The job adverts and the wording of employment contracts led to a lengthy conflict with the ABC union which ultimately forced BP to abandon its policy. The fight centred on the stipulation that the place of employment was Stavanger, and that relevant candidates must therefore either live locally or be prepared to relocate there. Where qualifications were concerned, the text specified flexibility with regard to working on land and offshore.[REMOVE]Fotnote: Advertisement that BP was seeking new employees, ABC archive. In other words, this issue had two aspects – first an unclear definition of the place of work, and second a requirement to live in the Stavanger area. The one was the consequence of the other.
The union movement pursued its struggle through several channels, including agreements on pay and conditions and Norway's Industrial Disputes Court as well as political mobilisation. Disagreement over the place of work ended in the court, while the battle over the freedom to live where one pleased was largely fought through the political system.
Residence requirement
The demand that employees should live in or move to the Stavanger region presented a challenge to Norwegian oil policy. Ever since the industry got going in the early 1970s, the government had maintained that offshore jobs should benefit the whole country. Norwegian administrative policy held that everyone in Norway should be able to participate in the nation's oil wealth through prosperity and employment. BP's desire to centralise its workforce in and around Stavanger accordingly represented a breach with established practice in Norway's oil sector.
The ABC maintained that the employment contracts on offer conflicted both with the main union-employer agreement on pay and conditions as well as with the Working Environment Act. Chair Ingard Haugeberg claimed that BP was tearing up the agreements it had helped to build up. Its new strategy breached not only Norwegian law but also the oil sector's duty ensure that the industry benefited the whole population.[REMOVE]Fotnote: NTB, 28 August 2001, "BP-arbeidsavtale trolig for retten".
According to the union, the consequences would be that one of Norway's most important workforces was threatened with centralisation to a restricted geographical area. Expertise would be stripped from local authorities outside the immediate vicinity of the oil company offices, which presented a gloomy prospect for the country's other regions.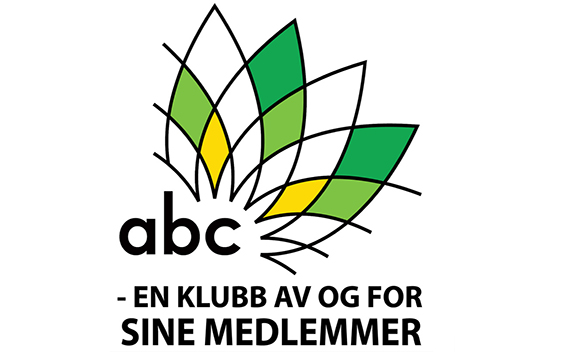 Outlying districts would lose an opportunity to build up skills which were also important outside the oil industry. A residential requirement – which the ABC predicted would spread to other companies – could involve depopulation of the periphery. When attractive and well-paid jobs like those offered by the offshore sector disappeared from small towns and villages, these communities would become less attractive for other people as well.
Local authorities could lose substantial tax revenues, making them more dependent on central government subsidies to maintain their services. Infrastructure would also deteriorate. Nor would a shift to Stavanger and other cities be confined to oil company employees. Enterprises affiliated to the offshore sector would also move to the vicinity of the oil companies to avoid being outcompeted.
The fight over the residential requirement was conducted by the unions through political channels. Councils in outlying regions, particularly in northern Norway, needed to be brought on side, and Haugeberg began a tour of local authorities. These efforts paid off. A number of councils sent declarations of support to the government and the issue was raised in the Storting (parliament).
A majority on the latter's local government committee – comprising representatives from the Labour, Progress, Socialist Left and Centre parties – maintained that BP's strategy conflicted with earlier political signals, and gave broad backing to the ABC. The committee admittedly took the view that the residential requirement was not contrary to Norwegian law, but felt it would be very unfortunate to recruit workers in this way – given the signals sent by the politicians.
In addition, the committee pointed to a broad political agreement enshrined in Storting decision that jobs on the NCS should benefit the whole nation, and asked the government to follow up.
"This is a practice which conflicts with earlier political signals that the oil industry should benefit the whole country, both economically and by allowing workers to live where they want in Norway," the committee commented.
"Such a change to recruitment practice would also mean that more outlying local authorities lose their tax revenues and highly qualified workers."
In other words, the union's arguments were accepted by a majority of politicians. The case then moved to the Norwegian Confederation of Trade Unions (LO) and the Confederation of Norwegian Enterprise (NHO).
Agreement was reached in March 2002. BP had to give way, and oil workers could continue to live wherever they wanted around the country.
Place of employment
But the conflict over the OPS was not finished. The ABC was still battling with BP on the place of work. It was willing to fight to ensure that offshore personnel retained the NCS as their workplace and continued with their tour system.
The controversial job advert and the employment contract drawn up by BP specified that new recruits would be employed by the company, and not specifically offshore or on land as had be ennormal before. This meant that new employees could be deployed here and there and, according to the union, would have less predictability. It claimed that an undefined workplace created insecurity,. Offshore safety would also be challenged, since continuity in employment conditions was regarded as fundamental for safe working in the industry.
Less predictability and more insecurity could affect the working environment and safety.[REMOVE]Fotnote: StavangerAvisen , 28 August 2001, "Ansatte erklærer krig mot BP Amoco". The union feared that this marked an attempt to introduce American working conditions to Norway. The dispute was taken to mediation without the two sides reaching agreement. After several years, the issue landed in the Industrial Disputes Court and was settled in the union's favour.
By a majority of one, the judges determined that BP's new contract of employment contravened the offshore agreement on pay and conditions. The company was forced to withdraw the contract and revise ones which had already been entered into.
GO4F
BP Amoco Norway's costs had become too high around 2000. Like many other companies, it experienced disappointing exploration results, increased costs and tougher global competition. While was it not alone in feeling the effects of the economic downturn, BP nevertheless scored relatively poorly in terms of both costs and efficiency.
An internal assessment of its own efficiency and an external benchmarking showed that BP Norge had substantial scope for improvement. That formed the backdrop for initiating the GO4F project to define and implement changes in relation to technological, organisational and mercantile processes.[REMOVE]Fotnote: Det Norske Veritas technical report, BP Norge AS RCO studie Ula/Valhall og onshore support . Report no 2003-4032, revision no 03, 9 July 2003.
Oil companies are often said to want to lie in the topmost quartile. Ranking companies in a sample within four equally sized groups is a way of comparing their assets, efficiency and costs. In 2002, BP Norge was in the third quartile for costs and its efficiency was also too low. An integrated reorganisation was initiated to reduce lifting (production) costs, and thereby strengthen earnings ability and boost the chances of attracting capital for future investment within the BP group.[REMOVE]Fotnote: Letter to colleagues from Eivind Hansen and Shona Grant. ABC archive.
"GO" in the GO4F name stood for "Great Operator",and BP devoted much effort to fulfilling that vision. The aim was to be in the topmost quartile for lifting costs in 2004 and for operational efficiency by 2005.
To achieve that, the company had to reduce lifting costs for its fields by 30 per cent or NOK 400 million from 2001 to 2004. Operation efficiency needed to be boosted from 89.6 per cent to 93 percent. Lifting costs were to be cut to USD 8 per barrel by changing the way work was done and by making big changes to the organisation both on land and offshore.
BP Norway's strategy was to "optimise the performance delivery and value of [its] existing production business in mid Norway and the southern area".[REMOVE]Fotnote: Performance management system for BP Norway project: GO for the future, 28 November 2002. The demand for savings came from BP globally. All parts of the international group has been ordered to cut costs, but the various subsidiaries were allowed to develop their own strategies for meeting this goal.
While the Aberdeen arm reduced its workforce, the company in Norway wanted to adopt a different and hopefully more enduring approach. Successful long-term change depending on redesigning the way jobs were done offshore. In other words, people had to work more intelligently both on land and on the NCS.[REMOVE]Fotnote: Interview with Øyvind Andersen and Eivind Hansen in BP.
The goal was to implement a process which assessed every element of BP Norway's field activities in order to find more effective ways of operating, supplying and giving support. That covered everything from power supply to the use of technology, organisation, work processes, logistics and the use of contractors. A culture had to be established which ensured that the changes could be long-lasting in terms of both thought and action. Everything was to reviewed and amended.[REMOVE]Fotnote: Performance management system for BP Norway project: GO for the Future, 28 November 2002.
The project team comprised personnel from various levels who were freed from other responsibilities to work full-time on GO4F. They included union officials and safety delegates. Launched in the autumn of 2002, the process was pursued along two time axes – one for the land organisation and the other for offshore operations.
The new structure on land was implemented in August 2003, while the decision on the offshore reorganisation was first taken that September and put in place the following February.
Implementation
The new organisational model and future staffing on land were determined in the spring and summer of 2003. A number of projects were terminated and other deferred.
BP's change process received government support through White Paper 23 (2001-2002) on the oil and gas industry, which stated in part:
Many fields on the NCS are in a mature phase, with declining production and rising operating costs. Production from these fields will soon be phased out unless special measures are adopted. This presents the companies with demanding challenges in reducing operating costs, extending the producing life of the fields and improving resource utilisation. Substantial operational changes are needed on many fields.
Valhall, Gyda and Ula were all mature fields with a growing need for maintenance and rising operating costs.
Risk analysis
Operations in BP Norway's organisation both on land and offshore were mapped during April-May 2003, covering every activity directed at Ula and Valhall with associated flank installations. Assigned to Norwegian classification society Det Norske Veritas (DNV), this work was carried out using a methodology called risk-centred operation (RCO).
The aim was to document opportunities for reducing activities, and the analysis showed an improvement potential of 15-20 per cent if its findings were converted into specific measures.
These included new work processes and routines, reducing or preferably eliminating the frequency and scope of activities with low or medium criticality, technical modifications, and changes to IT systems and infrastructure. The DNV report identified big differences between the two fields in terms of both management and technical personnel.
While Ula's organisation was dynamic, with aproactive approach and independent behaviour, Valhall's reflected bureaucratic planning and execution processes and a focus on tasks rather than results.[REMOVE]Fotnote: Det Norske Veritas, Report no 2003-4032, revision no 03, 9 July 2003, Teknisk Rapport, BP Norge AS RCO studie Ula/Valhall og onshore support . p 5.
In addition to the RCO analysis, improvement projects were pursued in such areas as maintenance programmes and processes,"Swat" teams for maintaining unstaffed platforms, production, modifications and cleaning up maintenance databases.
Logistics
BP Norway had worked for a number of years on supplying its offshore operations more efficiently, and established a logistics function in 2001 to exploit resources across business units. Through GO4F, a potential was identified in the spring of 2003 for establishing an integrated land-based centre to handle logistics functions previously run offshore. This built on an idea first introduced in the OPS.
Land-based logistics were expected to make it easier to meet ongoing needs for operation and drilling, improve communication between supplier and customer, and enhance understanding of customer requirements. Restructuring logistical services was intended to yield substantial cost savings through more cost-efficient operation, with better utilisation of helicopters and ships.
Until then, BP's logistics function had been characterised by the organisation of resources in different units. Key personnel in this area belonged to different disciplines, were organised under and reported to different departments offshore and on land, and lacked structured intercommunication.
One of the conditions which affected the way logistics were conducted was the lack of "lay-down" or intermediate storage areas on the platforms. This primarily reflected the fact that the flow of materials had not been given much attention when these installations were designed. Vessels were accordingly used for transhipment and intermediate storage, which involved unnecessary lifting operations and much offshore waiting time.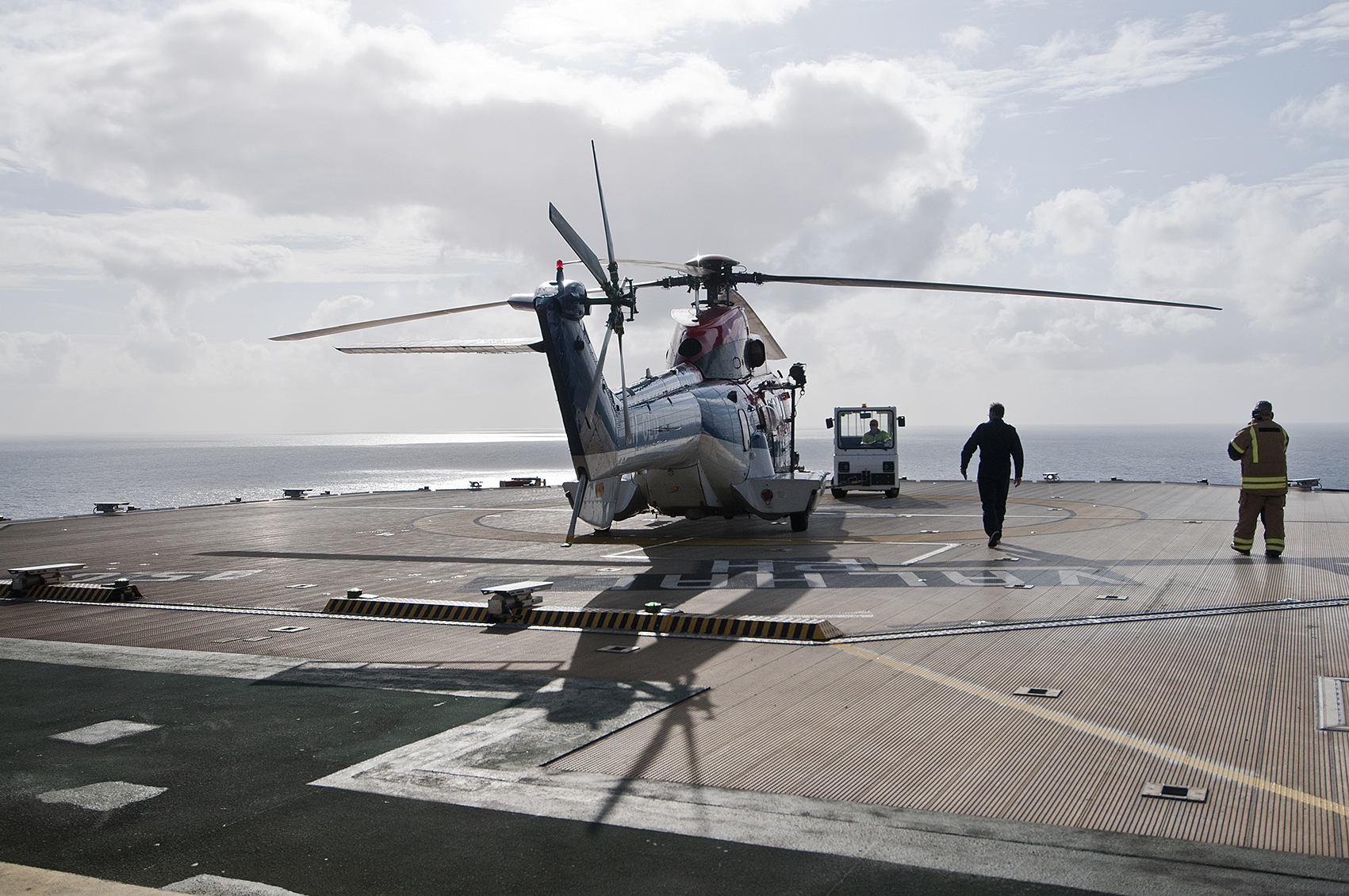 It was proposed to replace the existingstand by ship, which had to be on the field anyway, with a vessel providing more deck space for transport between platforms and for storage. This would allow more efficient use of the supply ships. Planning of return cargoes needed to be improved, too. New equipment often arrived without storage space having been readied or return shipments identified. Personnel transport also offered considerable scope for improvement at a time when shuttle traffic between the various southern fields was high.
BP had joined forces with ConocoPhillips to charter two helicopters, including one for search and rescue (SAR). Acquiring a new and larger machine would mean fewer shuttle flights. That in turn would cut overtime for passengers, deck personnel and helicopter crews. BP employees on Valhall were estimated to perform 30 work-hours of overtime per day.
While the two existing leased machines could each carry eight passengers, a new helicopter would have a capacity for 18 people per flight.
To reduce the burden on BP staff managing personnel transport and to permit more efficient use of employees by contractors, it was proposed that the latter should book their own flights. Maintenance and drilling companies already had an arrangement of this kind, where by they were allocated seats. And other long-term contractors could advantageously do this job themselves.[REMOVE]Fotnote: Geir Wallevik, 6 January 2004, Utvikling av Onshore Logistikk Senter, ABC archive.
Logistics work in BP was fragmented, and provided little scope for integrated functional and professional development. Lack of coordination had led to substantial additional costs.
By installing a fibreoptic cable network, BP had already laid the basis for shifting functions from offshore to land without compromising either quality or safety.
While operational coordination of the material flow offshore would still be required, such tasks could be done by the deck workforce.
This primarily involved a regrouping of existing capabilities. No downsizing of BP's own personnel was proposed, but contract staff could be eliminated through coordination and joint resource utilisation.
The main benefit was enhanced efficiency and productivity in using helicopters and ships. A review showed that waiting times for vessels were high and that the total period spent on the field could be cut by 20-30 per cent through improvements and greater coordination.
Maintenance
A survey showed that maintenance costs on Valhall had risen sharply from 2000 to 2003, and that the preventive/corrective split was now 30/70. This indicated a more reactive approach, with repairs outstripping the share represented by prevention.[REMOVE]Fotnote: Performance management system for BP Norway project: Maintenance Analysis Valhall , 6 February 2003. ABC archive. Reorganising offshore maintenance was accordingly a key component in the GO4F process, including programmes, processes and upkeep of unstaffed platforms.
As mentioned above, the solution for the last of these was to create "Swat" teams for operation, maintenance and minor modifications on the normally unstaffed Tambar, Hod, and Valhall north and south flank facilities. To be based on Valhall, these teams were to work independently and across discipline groups and their members needed to have a multidisciplinary background.
Those who were to participate in the teams therefore had to have a desire for further personal development and a positive attitude to working outside traditional skill boundaries.[REMOVE]Fotnote: Swat team – BP Norway , ABC archive.
Two-four rotation
Several underlying developments affected the GO4F process in BP, including the expansion of holiday time in Norway. The 2000 pay settlement gave many groups of workers four extra days of paid leave, taking them to five full weeks. Introduced gradually as two days in 2001 and two in 2002, this was not a legal requirement under the Holidays Act. In otherwords, whether employees had more time off was a local issue. But the pay deal meant that offshore personnel were also entitled to longer holidays, and led to calls for the rotation of work tours to change from two weeks on, three weeks off, two weeks on and four weeks off to two weeks on and four off.
The Norwegian Shipowners Association was the first to face this demand, followed by the Norwegian Oil Industry Association (OLF). Each company negotiated its own deal, and BP used this as part of its process to reduce lifting costs through rationalisation and enhanced efficiency. The ABC was also positive to introducing the two-four (or 14-28) rotation with a view to reducing operating expenses, even though this meant accepting a pay cut of 7.71 per cent.
Agreement was reached that the new scheme would be implemented without increasing BP's own workforce and contract personnel. A work-year in the two-four rotation contained the same number of hours worked as in an industrial shift system on land.
Better decisions, faster
As noted above, BP and a number of other companies wanted to move work ashore. And the combination of oil, IT and telecommunications had opened a new era in the offshore industry in this respect. The distance between installations on the NCS and offices on land had long contributed to high costs and big delays, but computer technology opened the way to new solutions and more efficient work methods.
A transition to "electronic" or e-fields had begun as early as 1995, when Phillips, Amoco and BP planned to lay fibreoptic cables in the southern NCS. This permitted direct transfer of information from the platforms and made communication more efficient. BP's operations in these waters embraced Ula, Valhall, Tambar and associated flank installations, which were also connected to the company' Forus head office via the fibreoptic network.
In connection with the installation of a new water injection platform on Valhall, it was decided to build an onshore operation centre (OOC) at the BP offices in Forus outside Stavanger. This facility, completed in 2000, allowed company personnel on land and offshore to collaborate in real time, with production and drilling engineers in Forus monitoring processes on the fields.
BP followed up in 2002 with a virtual operations centre at its premises which made it possible for parts of the drilling process to be handled from land for the first time.
The intention was to make life easier for operations personnel, and to introduce substantial changes in the way drilling and completion work on the NCS was managed.[REMOVE]Fotnote: BP Briefing , no 1 2003, "Ny teknologi – ny virkelighet", ABC archive.
Platforms could in principle be remotely operated from Forus, but the system remained "read only" for the operatorstations on land. Drilling would be conducted offshore with backing from specialists on land.
In operation around the clock, the OOC was an important element in a new BP slogan, Beyond the Best (B-B).[REMOVE]Fotnote: Teknisk Ukeblad , 13 March 2003. "Bedre boring med IT". The facility utilised real-time information during drilling of complicated wells and for optimising well paths.
Introducing processes and equipment to make effective use of greater real-time data volumes for operational decisions aimed to change work processes and operating modes.
Decision and work processes would be more closely integrated, with the division of labour between land and sea amended. Real-time information to land would allowed and faster operational decisions.[REMOVE]Fotnote: OLF, 2010, eDrift på norsk sokkel – det tredje effektiviserings spranget.
Exploration
BP had experienced poor exploration results around 2000 and, as mentioned above, decided not to apply for new acreage in Norway's 18th offshore licensing round.
According to press spokesperson Jan Erik Geirmo, this was not a sign that the company's activities on the NCS would be reduced, but signalled that it was not interested in drilling where the government was willing to permit exploration.[REMOVE]Fotnote: Offshore.no , 29 January 2003, "BP vil fremdeles satse på norsk sokkel".
BP had access to more interesting acreage in other parts of the world. The areas it wanted to explore on the NCS lay off Lofoten, where the fishing sector had won the fight with the oil industry.
When the centre-right government under Kjell Magne Bondevik refused to allow exploration drilling in these waters, BP made no secret of its disappointment with the decision.[REMOVE]Fotnote: Dagens Næringsliv , 13 March 2004, "Nedtur på norsk sokkel".
Gyda sold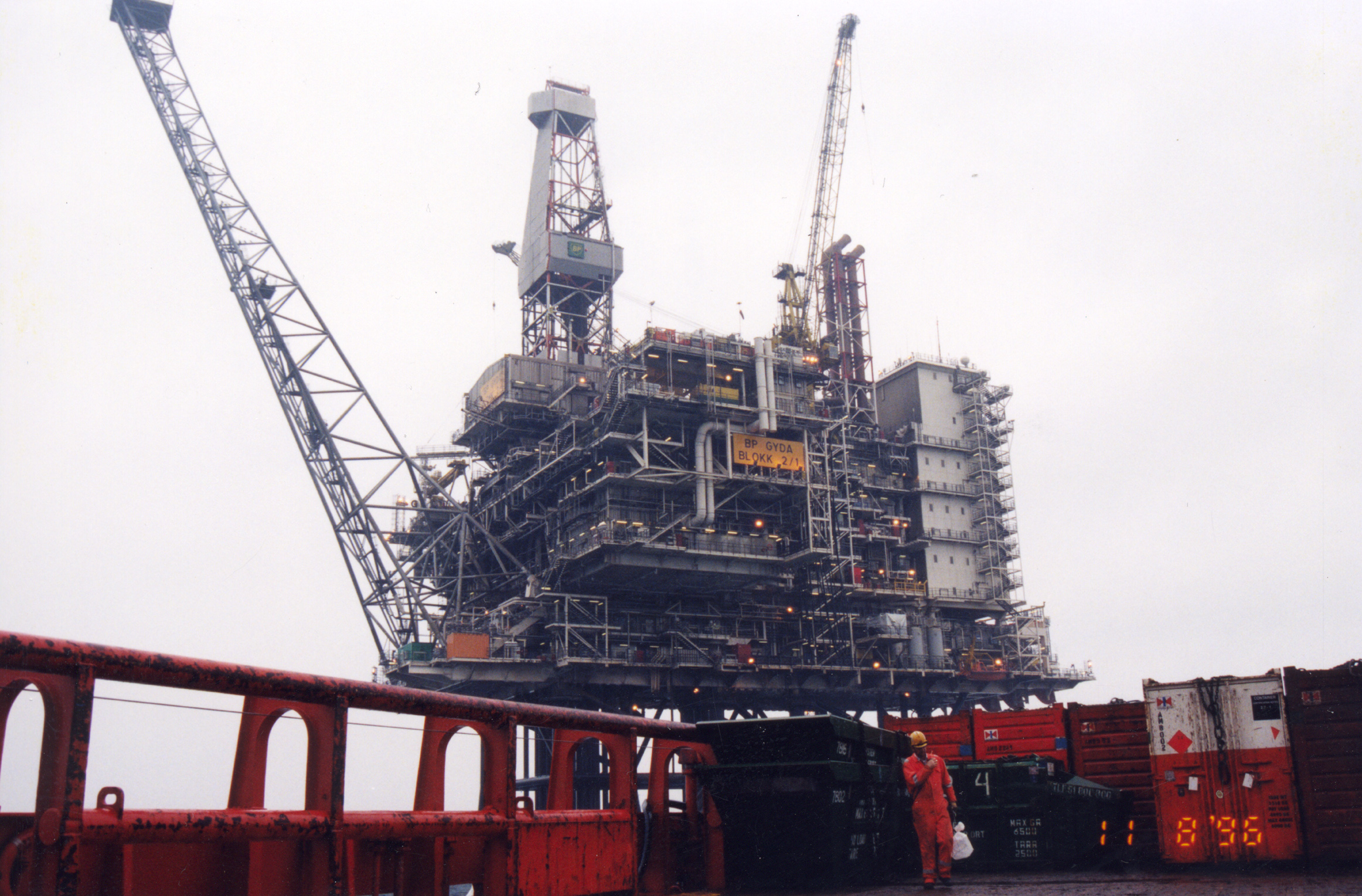 As a side-effect of GO4F, BP decided to sell its holding in Gyda at the southern end of the NCS. On stream since 1990, this field was regarded by BP as mature – with limited production and reserves. The "farm-out" was implemented in 2003, with newly established oil company Talisman Energy Norge AS as the buyer. Only a year earlier, in June 2002, BP's commercial manager, Trygve Pedersen, had told the media that Gyda – despite it sage – had potential and lay within the company's defined core area on the NCS. This statement was made in connection with the purchase of a further five per cent interest in the field by BP, which gave it an overall holding of 61 per cent.[REMOVE]Fotnote: Offshore.no , 27 June 2002, "BP kjøper Moecos andeler i Gyda feltet".
A Gyda 2010 project was developed at this time to determine how the field should be operated commercially, with more wells and fewer personnel. But the mood changed at some point, and a sale came to be seen as more valuable for BP than further investment.
After the farm-out, the company experienced a 21 per cent drop in turnover and a substantial fall in operating profit. Einar Valheim at BP Norway attributed this largely to the Gyda sale.[REMOVE]Fotnote: Dagens Perspektiv , 24 June 2004, "ØR 100: BP Norge solgte Gyda-feltet". BP's Gyda workforce, totalling 70 people offshore and 20 on land, was transferred to Talisman in connection with the transaction.
In 2002, BP decided to farm out of the Ormen Lange gas field in the Norwegian Sea, even though a commitment to gas production was clearly expressed in GO4F. The company had a 10.34 per cent interest, and that relatively limited holding was the official explanation for pulling out of this big development. BP regarded the minority stake as non-strategic and non-operational, and wanted to devote resources to projects which were more strategic.[REMOVE]Fotnote: Nettavisen , 19 October 2004, "BP vil ut av Ormen Lange". Implemented in 2004, the farm-out had no impact on jobs in the company.
Change process monitored
A detailed planning process underpinned GO4F, with management, union officials and safety delegates directly involved. The results were assessed by the project team before being forwarded to a dedicated project steering group (PSG). Also including a number of risk analyses involving many employees, this initial phase earned satisfactory marks from regulatory audits of the change process. Such monitoring was conducted initially by the Norwegian Petroleum Directorate (NPD), and then by the Petroleum Safety Authority Norway (PSA) from 2004.
Change processes were widespread in the early 2000s. Following them up, particularly in terms of employee co-determination and protection of health, safety and the environment (HSE), had a high priority at the NPD in 2003. The aim was to ensure that such reorganisations were planned, executed and followed up in accordance with regulatory demands, and that they took care of and further improved HSE.
According to the NPD, the BP restructuring was so extensive that failure to implement it in a satisfactory manner could weaken HSE on the company's installations. The regulator accordingly gave emphasis to following up GO4F.[REMOVE]Fotnote: PSA, 22 January 2004, Tilsyn med BPs endringsprosesser.
As mentioned above, the NPD/PSA concluded that the project planning phase had met official requirements for preparing the decision base and for worker co-determination. But its satisfaction that BP had devoted extensive resources to achieving a good plan did not extend to the execution phase, which it characterised as chaotic.
The company was also criticised for weak follow-up and for inadequate planning of the transfer of responsibility for GO4F to the line management. In addition, the workload, division of assignments and use of HSE expertise had not been assessed. And plans for worker co-determination in both execution and follow-up phases were criticised, as was monitoring of the psychosocial working environment.[REMOVE]Fotnote: PSA report, 15 January 2004, Tilsyn med BPs endringsprosess OG for the future.
The unions were initially positive to the process. Together with the safety delegates, they had been involved at all levels. But the ABC eventually complained of inadequate co-determination. In an e-mail sent in September 2003, the union threatened to withdraw because "GO4F, and thereby the management, are continuing … regardless of objections raised by the ABC to the process, its execution and its content".[REMOVE]Fotnote: E-mail from the ABC, 23 September 2003, "FW: Uformell gjennomgang av GO4F anbefalinger etter risikoanalyser for Ula og Valhall".
The union and its officials accordingly shared the view expressed by the NPD/PSA in its report. Worker co-determination through the unions and the safety delegates was inadequate during execution of the change process.
New organisation
BP Norway had 781 employees in 2003, including 634 local employees, 38 expatriate staff from the group and 118 contract personnel. Of these, 325 were offshore and 456 on land. Despite improving maintenance efficiency, coordinating logistics, reorganising work processes and restructuring both offshore and on land, however, downsizing was still needed.
The workforce on land had to be cut to 282 people by January 2014. Reaching the top quartile, which was GO4F's goal, meant losing 143 staff – 82 in technical support and 61 non-technicians.
After GO4F was implemented, the ABC's IngardHaugeberg wrote an article in Stavanger Aftenblad under the title "Has the culture of greed gained the upperhand?". He did not say a word about BP or GO4F, but asked whether business economists had destroyed inherited attitudes to solidarity and society.
Rationalisation, efficiency enhancements, downsizing, outsourcing and exposure to competition were issues in every company, he noted. But the question was whether they achieved the long-term financial benefit sought. Public opinion and the workers were only presented afterwards with the short-term effect, where management could refer to its "success stories".
"Most such restructurings produce frustrated, worn-out and inefficient personnel," Haugeberg claimed. "The result is a poor psychosocial working environment, which finds expression in stress-like reactions leading in turn to long-term sick leave."[REMOVE]Fotnote: Stavanger Aftenblad , 13 March 2004, "Har grådighetskulturen tatt overhånd?"
That this article appeared at the same time as GO4F ended was not entirely coincidental. It expressed something about worker attitudes towards such change processes.
Reversal
The world economy began to recover in 2004, with a sharp increase in oil investment. World energy consumption rose by 4.3 per cent and, while China accounted for the bulk of this growth, it was a global phenomenon.[REMOVE]Fotnote: Offshore.no , 16 June 2005, "BP: Rekordetterspørsel presset energimarkene i 2004". BP recorded a 20 per cent boost in profits during the first half of 2014, largely owing to the rising oil price. This increased by 10 per cent from April to June.[REMOVE]Fotnote: Offshore.no , 27 July 2004, "Oljeprisen ga ny rekord for BP". These market changes, with steadily improvingoil prices, make it difficult to say anything about the long-term effect of the GO4F process.
Since the dramatic price slump in 2014, BP has – like most other companies – again initiated a global reorganisation under the label "simplification and efficiency". This process, which also affects Norway, is intended as before to cut costs and enhance efficiency through doing things more simply and reducing activity in operations and projects. The Norwegian workforce is to be reduced by 160 people, mostly by eliminating contractors. But the number of permanent employees and expatriates will also be slimmed.[REMOVE]Fotnote: ABC website, 15 January 2015, "Nedbemanning i BP".
Valhall developments year by year
Measures to combat Valhall subsidence