Search for collaboration and union opposition
WP wellhead platform – a real success
The Amoco building – part of the company's vision
Great efforts were devoted by Amoco Norway around 1990 to restoring a positive spirit in company. After the difficult period with the initial problem wells on Valhall, the 1986 oil price slump and high staff turnover, the curves were climbing again.
Canadian Robert (Bob) Erickson, who became managing director in 1987, brought with him new ideas on management which were intended to motivate employees to give of their best. One of the projects he initiated in the autumn of 1991 was the planning of a new office building for some 300 staff, which would accommodate the whole land organisation. The premises in Bergelandsgaten were already too small, and Amoco leased additional space in Arkaden. This was not an optimum solution for an organisation with growth plans.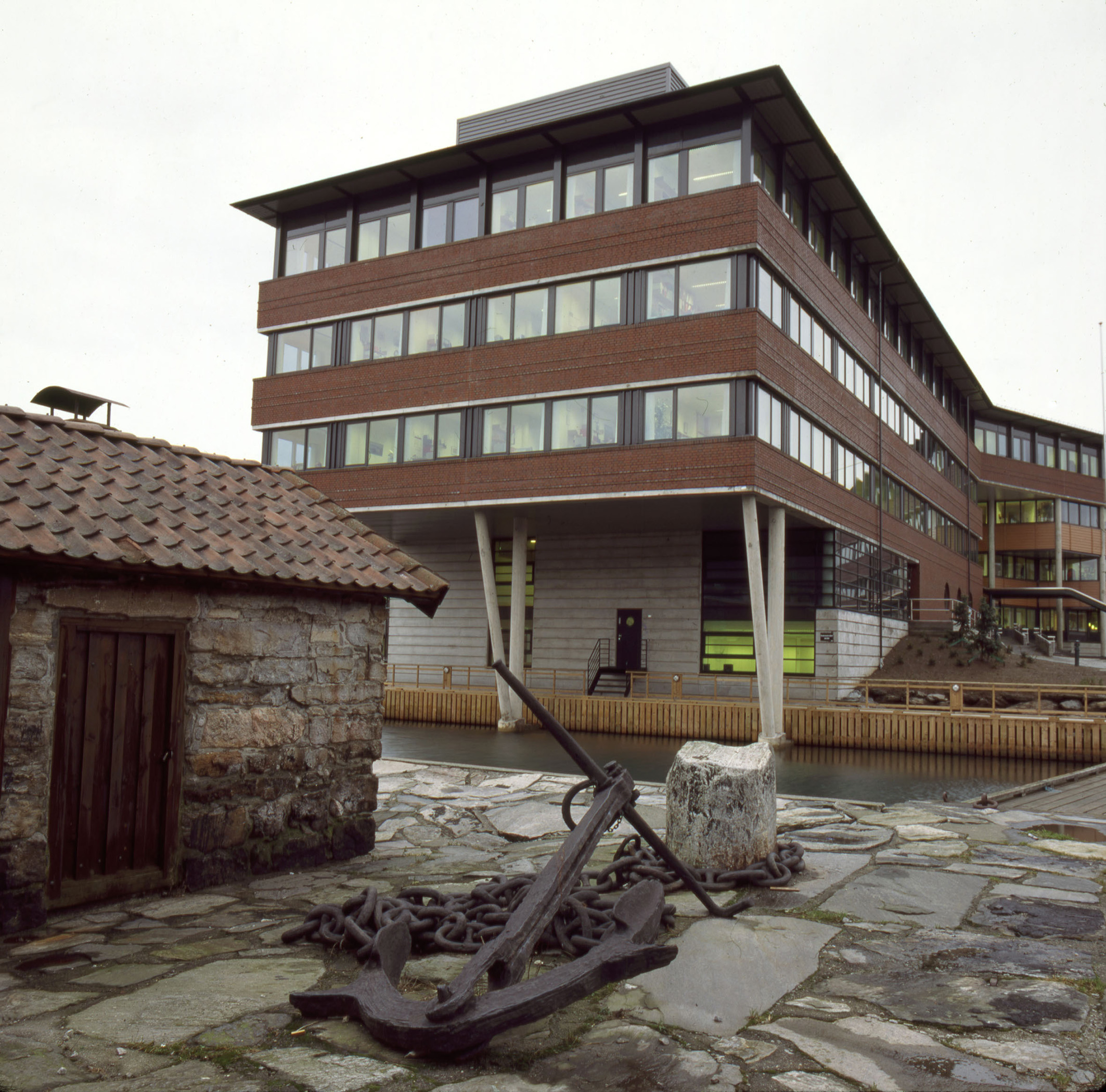 Two locations were assessed, in Løkkeveien and on the Bekhuskaien wharf at Verven. The final choice fell on the latter site, which covered 0.8 hectares.[REMOVE]Fotnote: Stavanger Aftenblad , 21 December 1991, "Amoco flytter til østre havn eller Løkkeveien".
The partners in the K/S Bryggen project were Aker A/S, Chr Bjelland & Co A/S, Lærdal Eiendom A/S and Åke Larssons Construction A/S.
Previously occupied by the old warehouses of the Bjelland Hermetikk cannery, the quayside site was open and light. Amoco signed a lease with K/S Bryggen in December 1992, which was due to come into force when the building was ready on 1 January 1995.[REMOVE]Fotnote: Lease from K/S Bryggen to Amoco Norway Oil Company, dated 18 December 1992.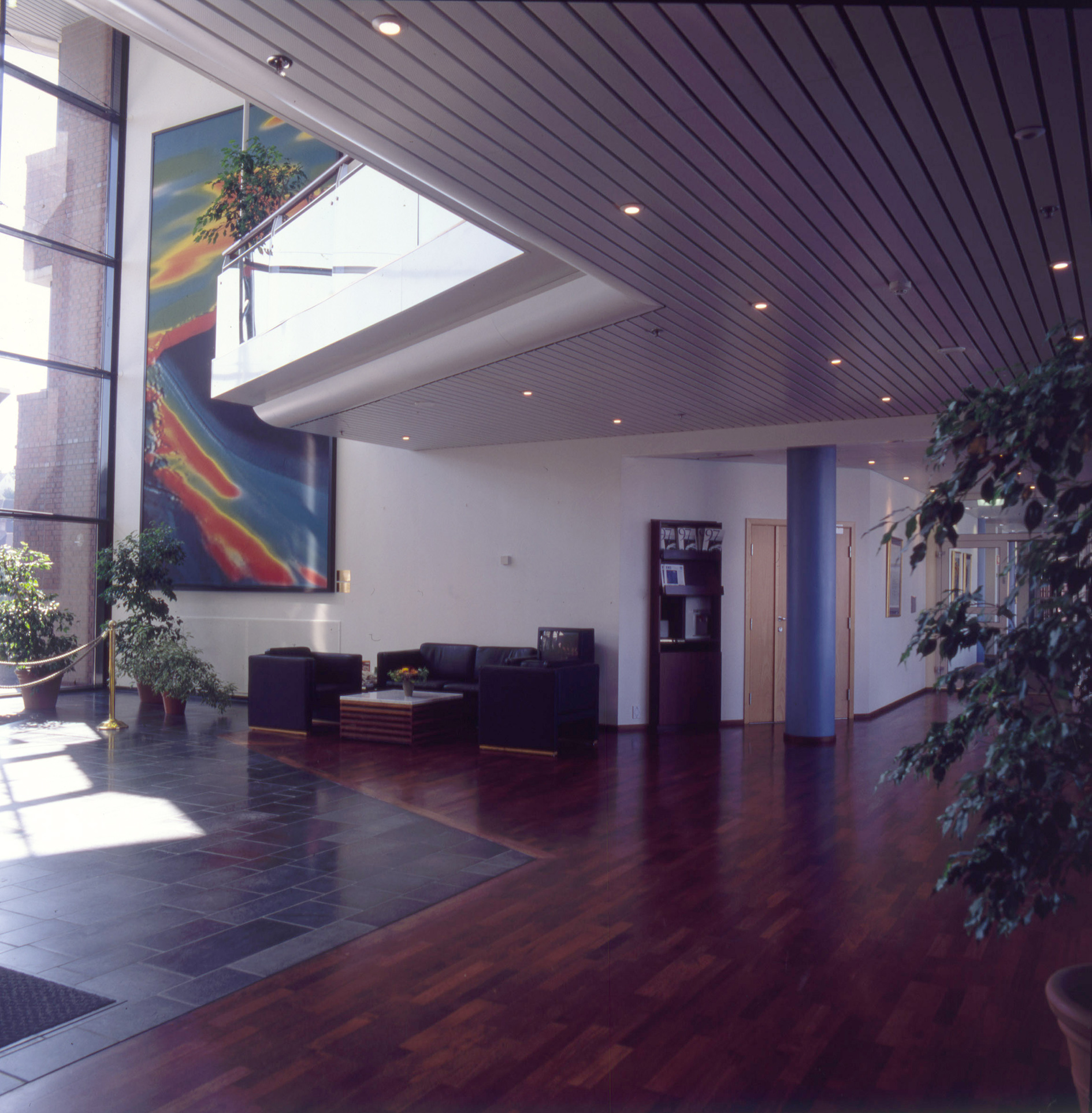 Erickson believed that occupying modern and forward-looking premises which conveyed a feeling of warmth would have a positive effect on the development of Amoco's organisation.
This was to be the best planned building of its day. There would be an open-plan reception, and the managing director would sit in the middle and be accessible – not hidden away in an office on the top floor with the best view.
With flexible and open solutions, the offices would be tailored for multidisciplinary teamwork – which was the new way of thinking.
This vision was greeted with enthusiasm both in the land organisation and offshore, and received a very good reception from the top management in the USA when it was presented to them.[REMOVE]Fotnote: Rasen, Bjørn (2007): LF6A. Valhall at 25 … and it's only the beginning, 229. Read more on changes to corporate culture in Amoco Norway between 1987 and 1994.
Erickson brought in an American architect who supported the planning work. Amoco had its own rules for office buildings which applied worldwide, so that conditions everywhere would comply with normal US standards.[REMOVE]Fotnote: Asbjørn Tansø to Kristin Øye Gjerde, 4 June 2014.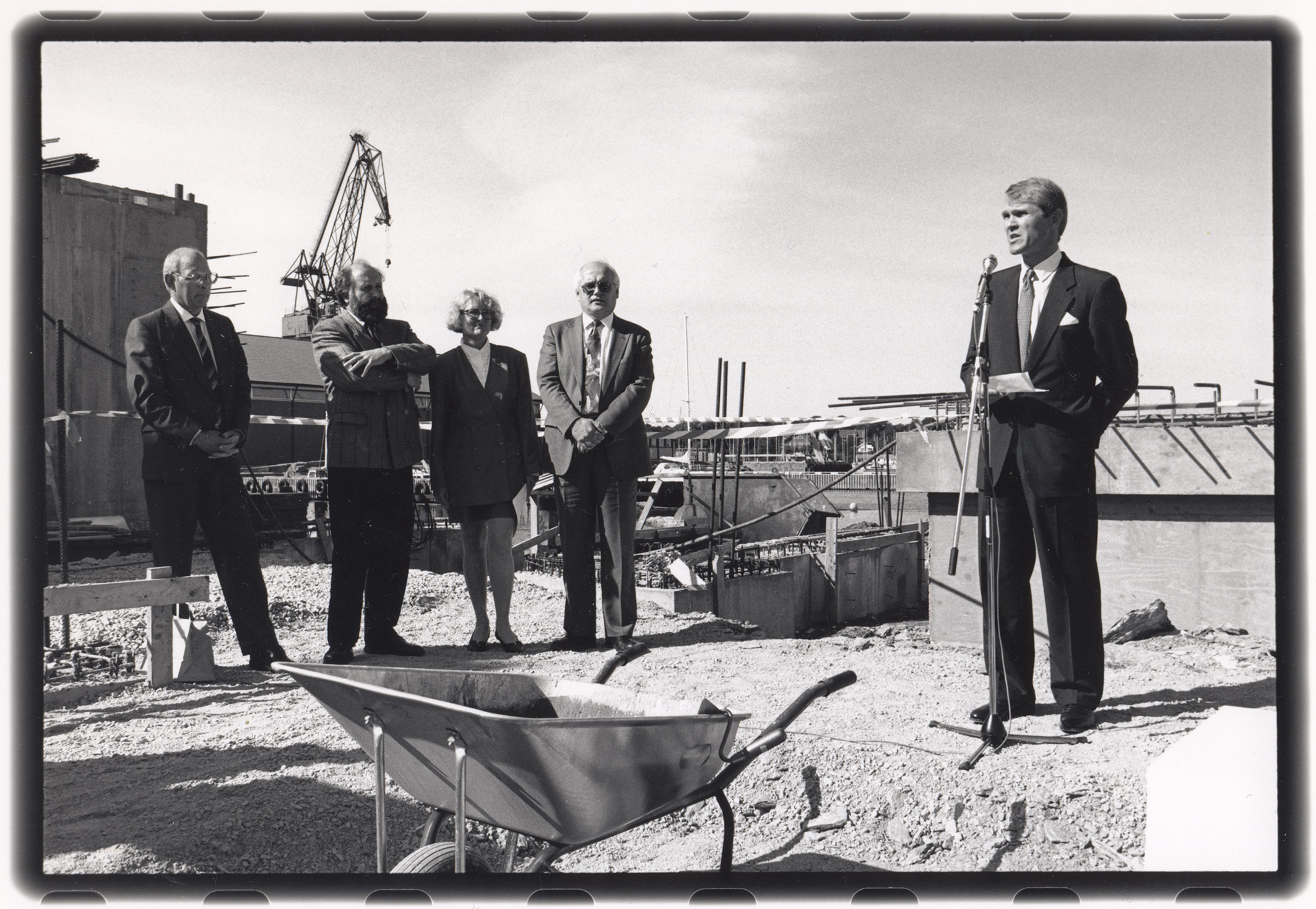 Problems arose when construction work began because the soil proved to contain toxic and carcinogenic substances. The Bekhuskaien site, at the head of Banevika bay, had been used over the years as a landfill for household and industrial waste.
Sewage outfalls, tar from boat hulls, impregnation of rope and cannery operation had contributed to the environmental transgressions of earlier ages.
Building on the site could nevertheless continue as planned after the Norwegian Pollution Control Authority (SFT) and the county governor's environmental protection department decided that the problematic substances would cause no harm if they were left undisturbed in the ground.[REMOVE]Fotnote: Stavanger Aftenblad , 21 September 1993, "Gift hemmer ny virksomhet".
Some spoil nevertheless had to be removed when piling the building's foundations. It was collected in containers and treated as hazardous waste. The seabed was otherwise sealed with a fibre membrane, followed by half a metre of sand and a topmost layer of three-four metres of spoil.[REMOVE]Fotnote: Stavanger Aftenblad , 20 September 1993, "Giftig fyllmasse funnet på tomt til Amoco-bygg".
New problems arose as building work approached completion. Under the headline "Amoco building a disaster", local daily Stavanger Aftenblad reported in August 1994 that neighbours were complaining about the loss of their sea view.
This criticism was expressed by Thomas Middelthon, a member of the council committee for urban development who represented the local City List ( Bylisten ) party. His views were supported by Turid Haaland, chief architect for the City of Stavanger, among others.
The complaints drew a sharp response from the Stavanger Chamber of Commerce, which pointed out that the new building had been designed in accordance with the applicable zoning plan for the area. Drawings and models had passed through every level of the council's decision-making process.[REMOVE]Fotnote: The zoning plan for the area was approved by the council's executive board on 14 September 1992.
According to the Chamber of Commerce, elected councillors and council employers were showing a lack of loyalty to the democratic processes which had been observed in this case.
The chamber found it positive that Amoco, through the Verven project, had located almost 500 jobs in Stavanger and thereby become the biggest employer in the city centre. That would secure life and activity there during daytime hours – something the chamber applauded.[REMOVE]Fotnote: Stavanger Aftenblad , 13 August 1994, "Kritikken mot Amoco".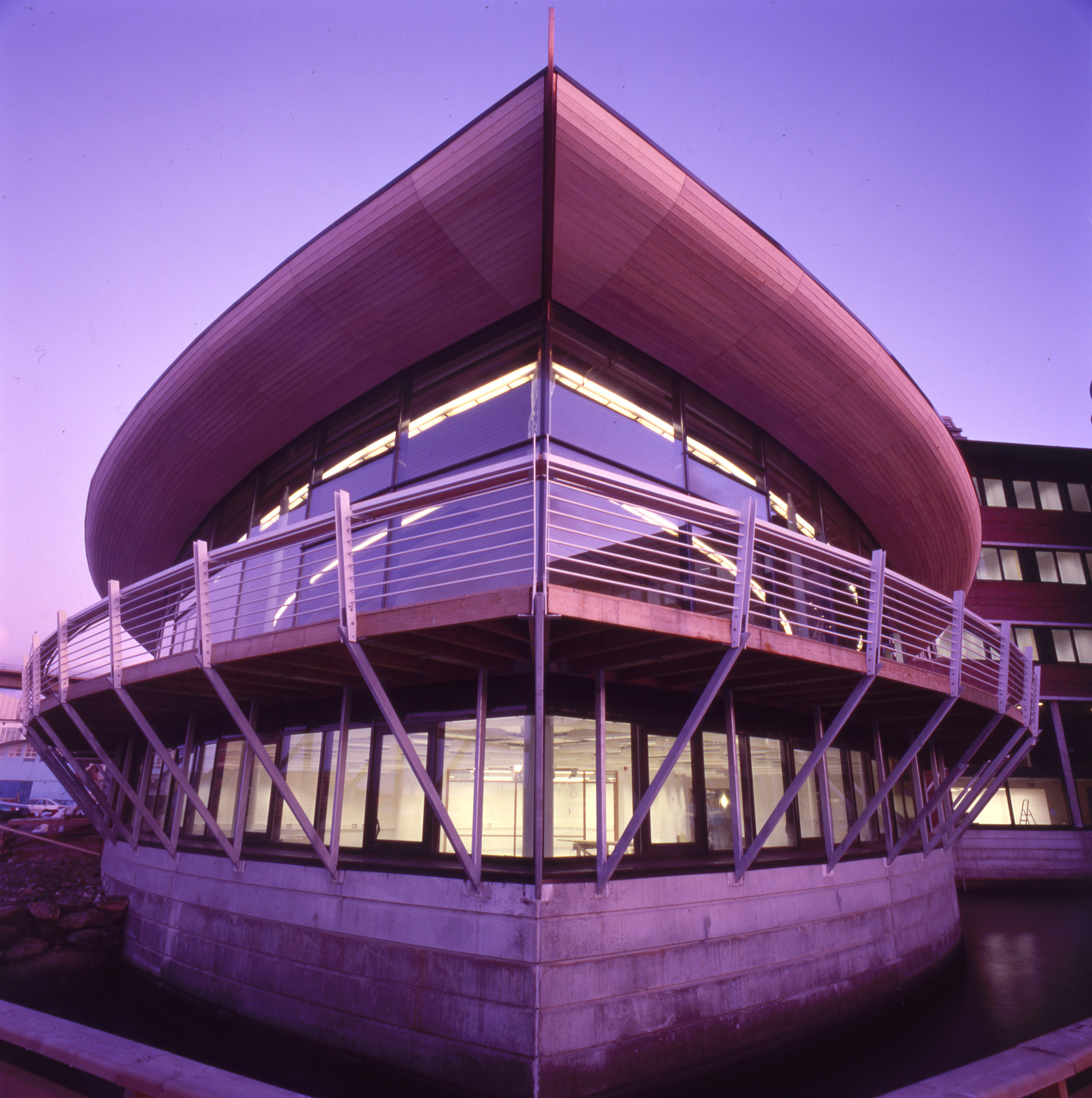 The building was ready in December 1994, and staff could move into a fine new building at Verven 4 with its own quay and sea view.
A canteen shaped as a ship's hull was a distinctive architectonic feature which elevated the building far above the run of the mill. Wooden floors recalled a ship's deck, and glass walls on the meeting rooms provided an open and welcoming impression.
But Erickson did not move into the offices he had taken the initiative to build. He left Norway in August 1994 to head Canadian Marine Drilling, an Amoco Canada subsidiary.
Nor did Amoco have a long history in its new building. When it merged with BP in 1998, those who remained with the amalgamated company moved to the BP offices at Forus – a big change for those who had become accustomed to Verven.
Amoco had bought the building in the spring of 1997, and sold it on to Norske Liv AS on 1 June 1997 with a lease-back deal.[REMOVE]Fotnote: Contract between K/S Bryggen and Amoco Norway Oil Company, 26 June 1996. With Anders Mørland in charge, the building acquired a managing director's office on the top floor in the "bows" of the hull-shaped part of the building, well screened from the other offices and with a view of the port.
Following Amoco's departure, the Verven 4 property was acquired in 1999  by Meglerselskapet Sundal & Collier for NOK 220 million to be leased as business premises.[REMOVE]Fotnote: Dagens Næringsliv , 30 March 1999, "Tar sikte på å bli en gigant".
Acta Holding, owned almost 30 per cent by entrepreneurs Alfred Ydstebø and Fred Ingebrigtsen, put the building on the market as a property syndicate – one of the first of its kind in Norway.
A 10 per cent supplement was added to the purchase price by Acta, partly to cover legal costs – a move which was widely criticised.
But the investors nevertheless made good money when the building was sold on in 2006. A subscription of NOK 1 million in 1999 had then grown to NOK 2.1 million, corresponding to an annual return of 14.5 per cent – well above the five per cent initially calculated by Acta.[REMOVE]Fotnote: Stavanger Aftenblad , 18 February 2006, "Amoco-bygget solgt".
Search for collaboration and union opposition
WP wellhead platform – a real success