AmocoNoco group seeks licences
Could Valhall have been Danish?
American International (Amoco) created a Norwegian armin 1965. This was intended to comply with the country's requirement that companies wanting to participate actively in future drilling off Norway had to have a local presence.
Amoco Norway Oil Company was established in May of that year as a subsidiary of Standard Oil Company (Indiana), and acquired its first office the following month at Fridtjof Nansens plass 6, just over the road from Oslo City Hall. F W Popp Jr,an American who had served the group since 1949 – including in Indonesia, Spain and Venezuela – was fetched from Pan American Indonesia Oil Company to serve as resident manager.[REMOVE]Fotnote: Øyvind Kvaal in a collection of articles from Amoco Viking.
Astri Grieg was hired as his secretary, and Berit Esle Elle replaced her as early as 1966 and Anne Marie Roberg took over the job later that year.
Amoco and its Norwegian partner Noco submitted their application for production licences on14 June 1965 along with two other US oil companies which had joined their group. Texas Eastern Transmission Co of Houston and Amerada Petroleum Co from Tulsa, Oklahoma, were brought in because Amoco wanted to spread the financial risk. Its collaboration deal with Noco permitted this providing the companies concerned had the necessary expertise.
This Amoco-Noco consortium applied for 40 of the 278 blocks put on offer in Norway's first licensing round, and secured 10 of them in three licences. Two more were obtained that December. Two of the blocks won by Amoco-Noco – 2/5 and 2/8 –were among those attracting the greatest interest in the round. Tor, South-EastTor and Valhall were all later discovered in this acreage.
A young Amoco geologist called H W Dalton wrote on 22 July 1965: "Of the 12 blocks we will probably be awarded by the Norwegian authorities, only three are of interest at the moment. The most attractive is block 2/8, where a large anticlinal structure is well defined on three different seismic maps."
This view was expressed before anyone had drilled in the Norwegian North Sea, or even knew whether oil and gas were to be found. Given the discoveries made, it must becalled prescient.
By the end of 1966, the Oslo office comprised three expatriate staff – Popp as resident manager, D A Lonergan as senior economist and H S McColl as chief geologists. In addition to Roberg, the Norwegian staff embraced fellow secretary Kari Aarheim and draughtsman Torbjørn Ellefsen.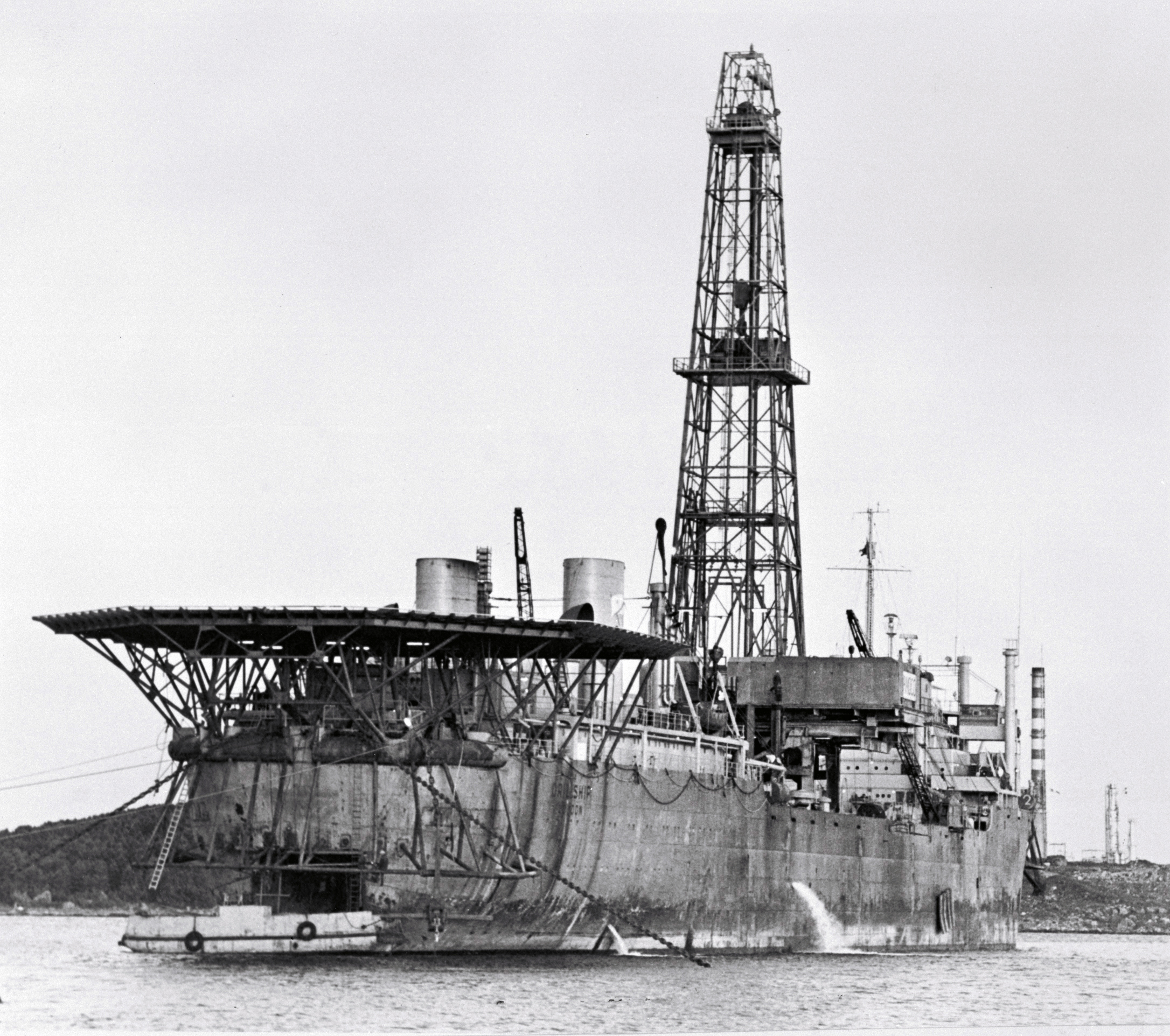 This team had increased from six to 11 by the time drilling began in 1967, and an office was operating at Tananger outside Stavanger with four employees and two drilling superintendents on loan from Pan American Petroleum.
The drilling base was established to support the first well spudded – 2/8-1 – in November 1967 from a rig operated by Drill Sea Associates on Drillship , a converted whale factory ship.
Amoco Norway had a high level of activity in 1967-68, and the Oslo office was small. R R Turner was brought in to serve as operation superintendent there when drilling began. LR Birbeck was drilling supervisor in Tananger with J R Bullen and E H Watson as superintendents. All three were Americans. Office supervisor was Bob Snyder, while E Jacobsen served as office manager and A Sandeid as stenographer.
During 1968, E C Sigurdson joined the team as staff engineer and D H Flickinger became staff reservoir engineer. Irene Dehs was the stenographer and secretary.
Everyone named took part in the whole operation. But only Snyder and Dehs remained a year later. Drilling had ceased and activity was at a low ebb.
Popp left Norwayin late 1969 and was replaced by E K Wearing, who ranked as one of the world'sleading palaeontologists. However, he did not stay long either. In mid-1971,Wearing was replaced by Ross W Craig. He gave way in turn to Kenneth D Soule –who stayed until he became president of Amoco Ireland in 1976.
Craig had used his brief tenure to shift the head office from Fridtjof Nansens plass to Gunnerius House in Storgata, where it remained until its transfer to Tananger in 1974. The latter move, to a new building near the entrance to the Norseabase, reflected Amoco's desire to be closer to where the main activities were taking place.
Since the company had its drilling base outside Stavanger, it was appropriate to locate the Norwegian head office there as well. An Oslo office was retained to stay in touch with the authorities, and Soule remained there almost seven months after the move.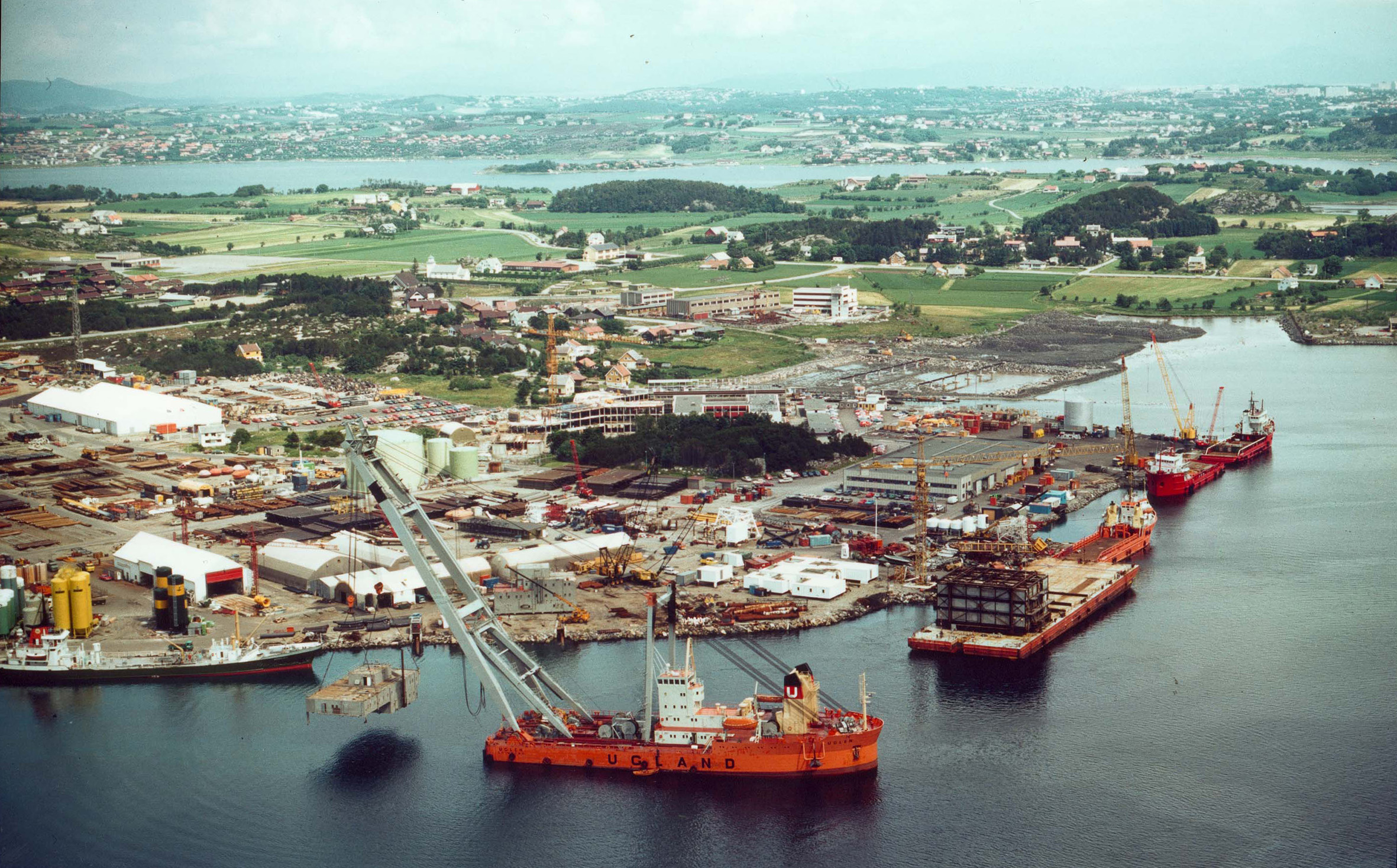 With several other oil companies, Amoco Norway Oil Co relocated from Oslo in 1974 and leased offices at the Aker Norsco base in Tananger. This was primarily to improve contacts with the Norwegian Petroleum Directorate (NPD) and Statoil as well as with the other oil companies which were partners in Amoco's licences.
Finance manager Sigmund Rosnes, who had joined Amoco that year, became the only Norwegian to accompany it to Tananger. None of the other locals wanted to move. Also in 1974, Rune Skeie and Asbjørn Tansø became the first Norwegian engineers to be recruited by the company.
When Hod and Valhall were proven in 1974-75, it became clear that Amoco would face big development assignments at the southern end of the Norwegian continental shelf (NCS).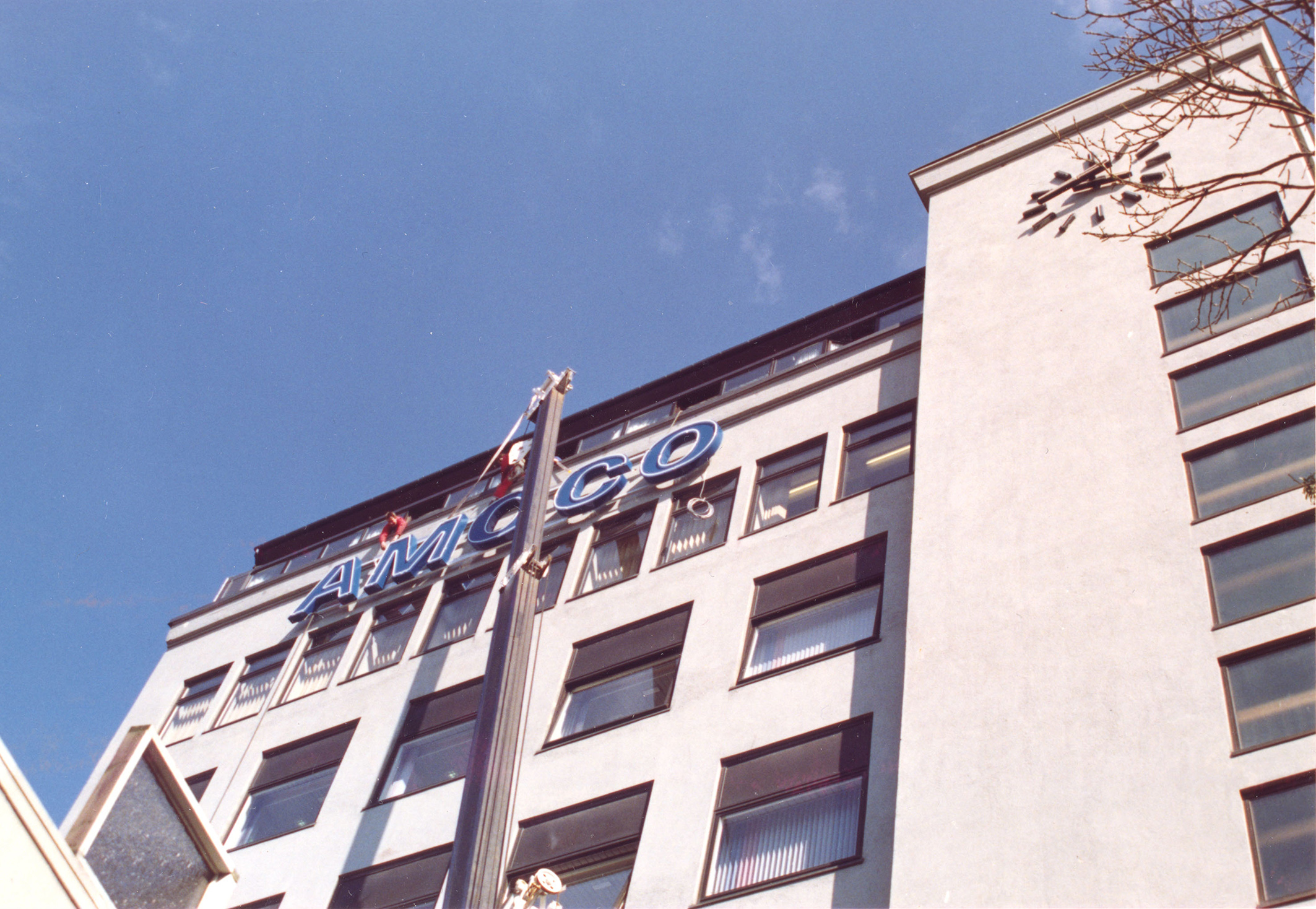 The company was set to expand, and needed larger premises to accommodate more employees. Its staff of 66 in 1978 was scheduled to grow to almost 150 people. Rather than leasing a planned new building at Aker Norsco, however, Amoco wanted to moved into 3 500 square metres in the Dreyer building at Bergelandsgata 25 in central Stavanger.[REMOVE]Fotnote: Ministry of Local Government and Labour. Archive 700.35 Establishment cases. Rogaland. RSL/EJ 1.11.1978 A.N. Ref no 84/1978-79.
Valhall was discovered while Soule was still resident manager, and the company's whole finance department was visiting the Zapata Explorer rig on the very day, waiting for a storm to pass. But the finance specialists lacked the experience to understand the importance of what had happened, and held no celebrations.
Amoco Norway was still a small organisation, with easy communication and structures which remained simple and informal.
Supervisor Krebill began a tradition of holding a Christmas party at Stavanger's Atlantic Hall, which was maintained even as the company grew. The 40 guests in the early years had lots of room, but space per head declined as time passed – without ever being a problem. This was always a stylish affair, with the men in dark suits or dinner jackets.
During the mid-1970s, the average age of employees was about 27. Turnover in this young staff was very low. The only people to leave were secretaries who married or had children. Amoco always had a high percentage of Norwegian employees, and these were given responsible assignments and jobs – more than in other foreign oil companies.
The Oslo office was retained for a year after the move to Tananger, at Haakon VIIs gate 2.Soule was replaced in 1976 by Robert M Ridley, who stayed in Norway for more than five years.
Once the decision had been taken to develop the field, the Valhall engineering joint venture was established in 1977 and the Oslo office reopened to strengthen contacts with government. This facility, which was also intended to be responsible for the engineering design work, was installed at Tjuvholmen in the harbour area. Closed as soon as construction of Valhall had been completed in 1982, the office provided accommodation for some 400 engineers and other staff members over the five years.
The Valhall development also called for more personnel in Stavanger to pursue work offshore and to administer operations from land. Having out grown the Tananger office, Amoco Norway moved its steadily growing workforce into Dreyer House inStavanger. The base facilities at Tananger were also modernised and expanded.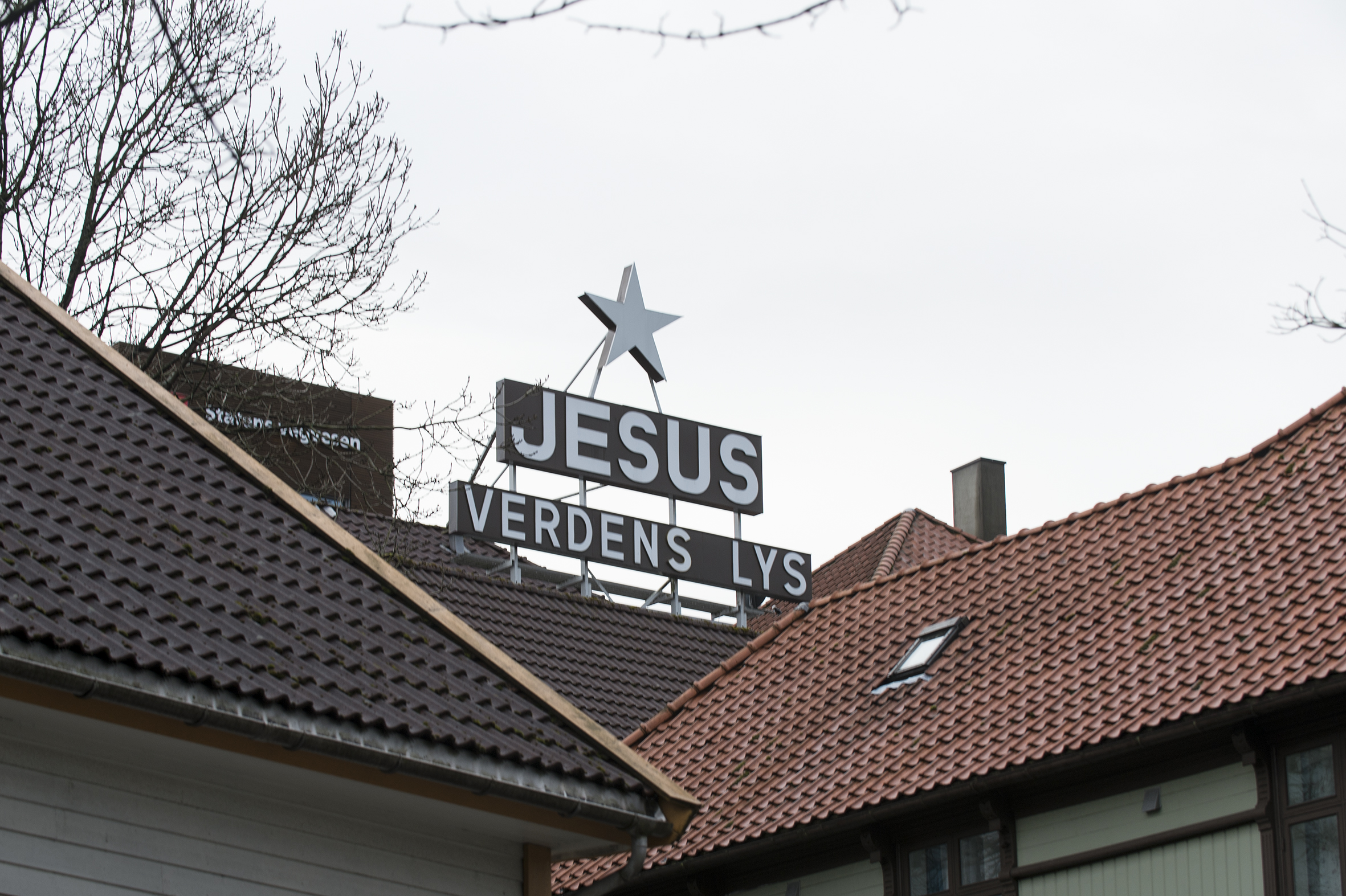 Amoco secured a 15-year lease for the Dreyer premises and moved in during 1981. The company stayed there until 1995, when it transferred to new premises at Verven 4. Bergelandsgata was renowned from before for its chapels – there were about 20 of them. Amoco was next door to the building where the illuminated sign Jesus – Verdens Lys(Jesus – Light of the World) shone across Stavanger's central Breiavatnet lake towards the Atlantic Hotel.
A guest of Amoco who was staying at the hotel asked what the sign meant. When its message was explained to him, the American thought for a moment before commenting: "Amoco should apply to get a sign which reads 'and Amoco provides the fuel …'."[REMOVE]Fotnote: Stavanger Aftenblad , 11 April 1981, "Mange etableringer i Stavanger-området". The county council's executiveboard gave consent for the creation of an oil base at Torvastad in Karmøy local authority north of Stavanger following contractor McDermott's lease of the former Storesund Salteri og Kraftforfabrikk factory in connection with its assignment on Valhall. McDermott hired 3 800 square metres of outside storagespace.
The company also had an office in Florø up the coast in 1980-82 and 1985 for base activities connected with drilling on block 34/2.
Ridley was transferred to the Netherlands in 1982 and replaced by B R Schlup.
Union congratulations
Journalist Willy Olsen reported in Labour Party daily Arbeiderbladet  on 16 November 1979 that 10 of the 12 largest contracts on the Valhall field had gone to Norwegian companies. The Norwegian Confederation of Trade Unions(LO) had written to Amoco Norway to express its satisfaction with the company's desire to support domestic industry in the North Sea.
Amoco had also shown an earlier willingness to award major contracts to Norwegian bidders competing with foreign companies. In displaying this interest, it undoubtedly had the possibility of winning future licences in both North and Norwegian Seas at the back of its mind as well.
AmocoNoco group seeks licences
Could Valhall have been Danish?