Financing the Valhall development
The original process
Noco – small but attractive
Norwegian politicians long considered the model with one state-owned, one part-state-owned and one private oil company to be ideal. As the last of these enterprises, Saga Petroleum was assigned an increasingly important role in Norway's offshore sector during in the early 1980s.
When Conservative Party leader Kåre Willoch formed a minority government in 1981, the terms for private Norwegian players looked better than before.
And Saga was keen to secure its position in competition with its two Norwegian big brothers – state-owned Statoil and majority government-owned Norsk Hydro. Acquiring Noco was pursued on a couple of occasions as a way of doing this.
Saga had enjoyed a close relationship with Noco ever since its creation in 1972, having sprung from the latter's sister company Nocoto – established in 1971 to explore for oil above 62°N.
Noco was unable to venture into Norwegian waters beyond the North Sea sector because its ties to Amoco. (See the article on Noco and the creation of Saga Petroleum.)
Saga was initially owned by more than 100 Norwegian companies, and had been described as the "biggest gamble in Norway's history".[REMOVE]Fotnote: Dagbladet , 14 January 1971, "Største hasard i norsk historie". Noco's partners held 40 per cent of Saga on its creation.
The small six-member staff of Noco was transferred to Saga with the exception of managing director Carl Wilhelm Carstens, who had been with the company since 1966.
His time in the mining industry as head of pyrites extractor Stordø Kisgruber had given Carstens experience of drilling technology.[REMOVE]Fotnote: Leif Dons in conversation with Kristin Øye Gjerde, 22 January 2014.
Noco otherwise largely purchased the services it needed from Saga's rapidly expanding organisation, which soon became Norway's third largest oil company.[REMOVE]Fotnote: Fridthjov Haavardsson's notes, 2009, "The Norwegian Oil Consortium – NOCO."
Saga offers to buy Noco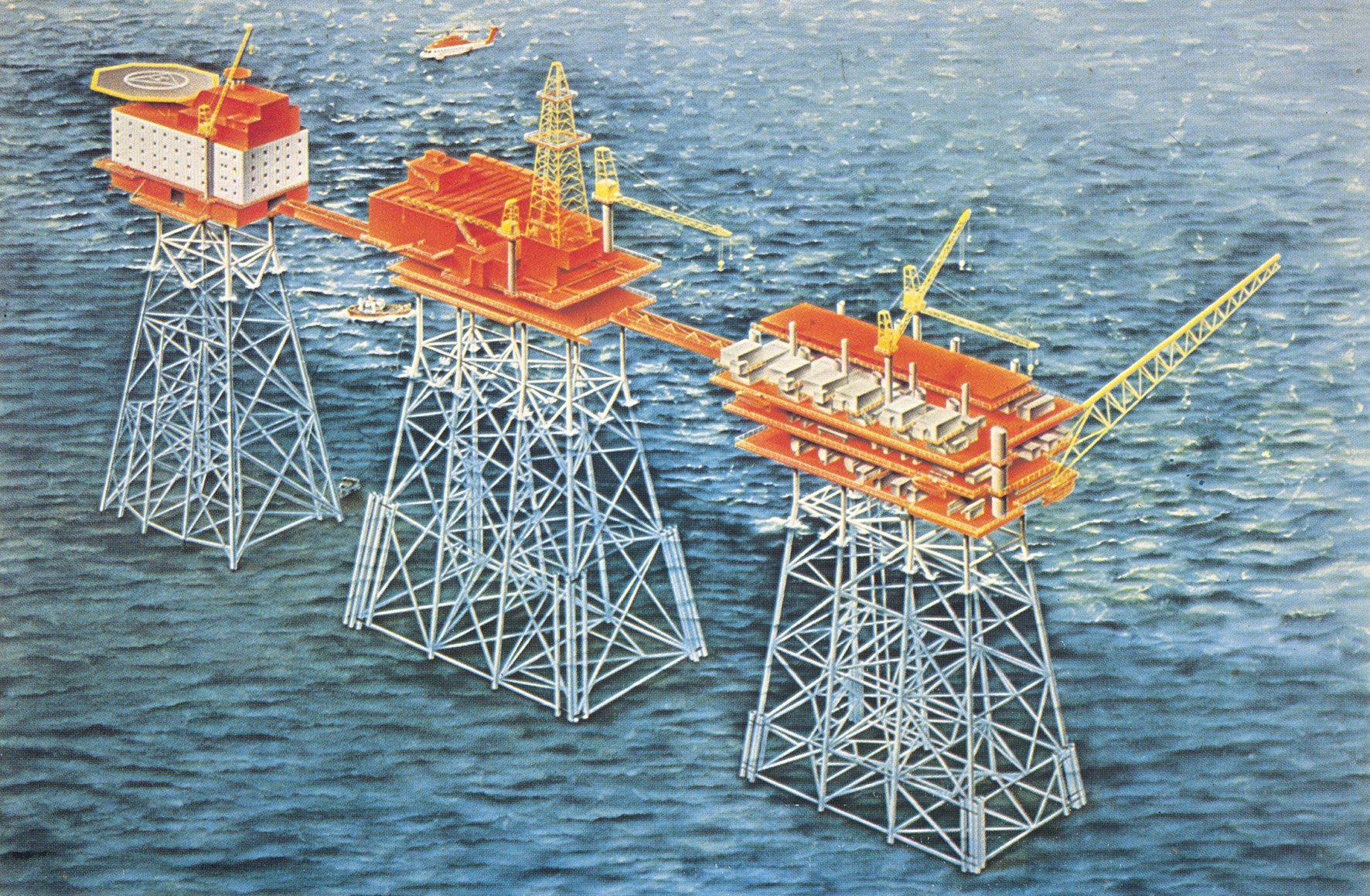 The possible benefits of acquiring Noco were assessed by Saga in the spring of 1962. Since it was still making no money from its activities, the company felt it would be advantageous to own an oil company with revenues. The question was how attractive a Noco takeover would be at that time.
Noco's operations were concentrated in the AmocoNoco group's joint projects on the Norwegian continental shelf (NCS) – including the Tor field in the Ekofisk area, where Noco had about four per cent.
Since this holding was so small and the development only embraced a single platform, the consortium's partners could cover the investment without having to borrow.
Tor came on stream in the summer of 1978 and provided ongoing revenues from oil sales for Noco and the other licensees. That gave the Norwegian partnership a welcome financial surplus in 1980-81. However, the reservoir looked unlikely to produce as much as first estimated.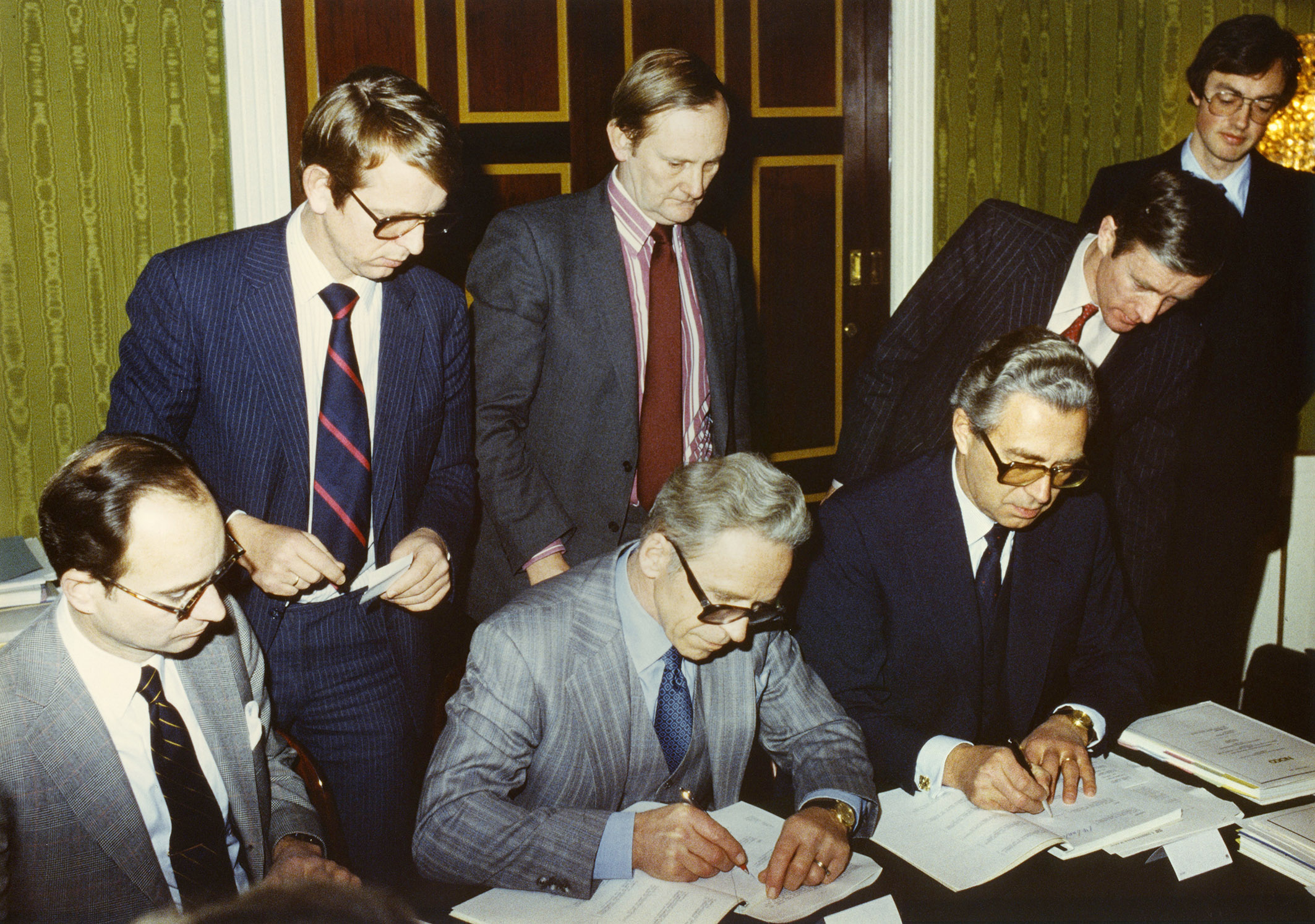 Noco also had 15.7 per cent of Valhall, where production began in the autumn of 1982. To meet its financial commitments for this development, the partnership first raised a loan of USD 100 million from Svenska Petroleum AB in 1978. This was replaced in 1981 by a USD 260 million bank loan. (See the article on Financing the Valhall development.)
Another asset was a 25 per cent interest in Hod, which lay close to Valhall. Oil and gas were proven in this discovery, but no development decision had been taken.[REMOVE]Fotnote: Noco annual report, 1982.
The fact that Noco had been released from its legal restrictions in relation to Amoco by a compromise agreement in 1977 would be an advantage for a possible sale.
In one sense, it can be said that Saga negotiated to acquire its own origins. The close ties between the two companies meant, for example, that people negotiating with each other over a sale were members of the management on both sides of the table, but in different roles.
The chairman of Saga was Einar Falck from the Vesta insurance group, while Fred Olsen from Akers mek Verksted was a director. These roles were reversed in Noco.
Views about the most advantageous course differed among the 16 partners in Noco. Some wanted to sell their interest for cash, while others were interested in Saga shares which would keep them in the oil game.
The price Saga was initially prepared to pay was NOK 30 million for each five-per-cent holding in Noco. Not all the partners – including Elkem, Norcem, Norgas and Vesta, who each had 10 per cent – thought this offer was good enough.[REMOVE]Fotnote: Aftenposten , 13 May 1982, "Saga vil kjøpe NOCO". The remaining 12 with five-per-cent interests were Akers mek Verksted, Sig Bergesen d.y, Borregaard, Ganger Rolv, Kosmos, Kværner Brug, J Ludwig Mowinckels Rederi, Selvaagbygg, Smedvigs Tankrederi, Westfal-Larsen, the Wilhelmsen group and Storebrand.
As a result, the offer was pushed up to NOK 50 million for each five per cent. That was good enough for a preliminary agreement to be signed in the summer of 1982, committing Saga to take over Noco from January 1983 at a price of just over NOK 1 billion. All but one of the partners accepted this offer.
But Saga got cold feet when fairly serious problems arose with the wells on Valhall after the field came on spring that autumn.[REMOVE]Fotnote: Stavanger Aftenblad , 15 February 1983, "Saga vil prutte på prisen for Valhall". With oil prices also declining, Saga chief executive Asbjørn Larsen feared the field would prove less profitable than first assumed. The whole question of a takeover was put on ice.[REMOVE]Fotnote: Aftenposten , 21 December 1982, "Saga og NOCO-oppkjøp: Nøler efter treg Valhall-start".
Splitting Valhall and Hod costs
Noco and Saga shared offices, and the two companies continued to collaborate closely during the 1980s.
Leif Dons took over from Carstens as Noco's managing director in 1983. He was educated as a technical physicist specialising in industrial economics at the Norwegian Institute of Technology (NTH) in Trondheim (now the Norwegian University of Science and Technology – NTNU).
His promotion to chief executive reflected the experience he had acquired as Carsten's deputy since 1975 and the role he had thereby played internally in the work of Noco and AmocoNoco.
Noco might be small, but this did not mean it was simply a passive partner in its licences. The company managed its holdings in an active manner.
In a way, it functioned as a corrective in relations between the US partners in the AmocoNoco group and the Norwegian authorities and labour market. Noco could also contribute through its network of contacts in Norway.
Partners in the consortium, such as Aker and Kværner, became familiar through their participation with the developments which Noco was involved in.
These companies were naturally interested in securing contracts from these projects, but then had to compete on equal terms with everyone else.[REMOVE]Fotnote: Leif Dons in conversation with Kristin Øye Gjerde, 22 January 2014. (See the article on Valhall orders for crisis-hit yards.)
A dispute arose between the Valhall partners in the late 1980s over the division of costs on Hod, which pitted Noco against the other licensees – Amoco, Amerada and Texas Eastern.
Interests in production licence 033 covering Hod were equally divided between these four, giving them 25 per cent each. But Noco had a considerably smaller share than the others in Valhall, at 15.7 per cent.
The Norwegian partner wanted to reduce its costs and pay only the exact charge for leasing processing capacity on Valhall, while the other licensees included capital costs for the latter field.
A streamlined arbitration tribunal with Erling Selvig as sole arbitrator concluded that the majority's solution was the most equitable, and Noco had to yield.[REMOVE]Fotnote: Leif Dons in conversation with Kristin Øye Gjerde, 22 January 2014.
Olsen strengthens Noco position
Shipowner Fred Olsen had been a strong and activity player in Noco from the start, although he only represented a 10 per cent interest.
He had taken the view in the 1960s and 1970s that the supplies industry was where the biggest money was to be made in the offshore sector. By the late 1980s, however, he appears to have developed greater faith in oil companies as a revenue source.[REMOVE]Fotnote: NTB, 5 April 1988, "Fred. Olsen sterkere i olje".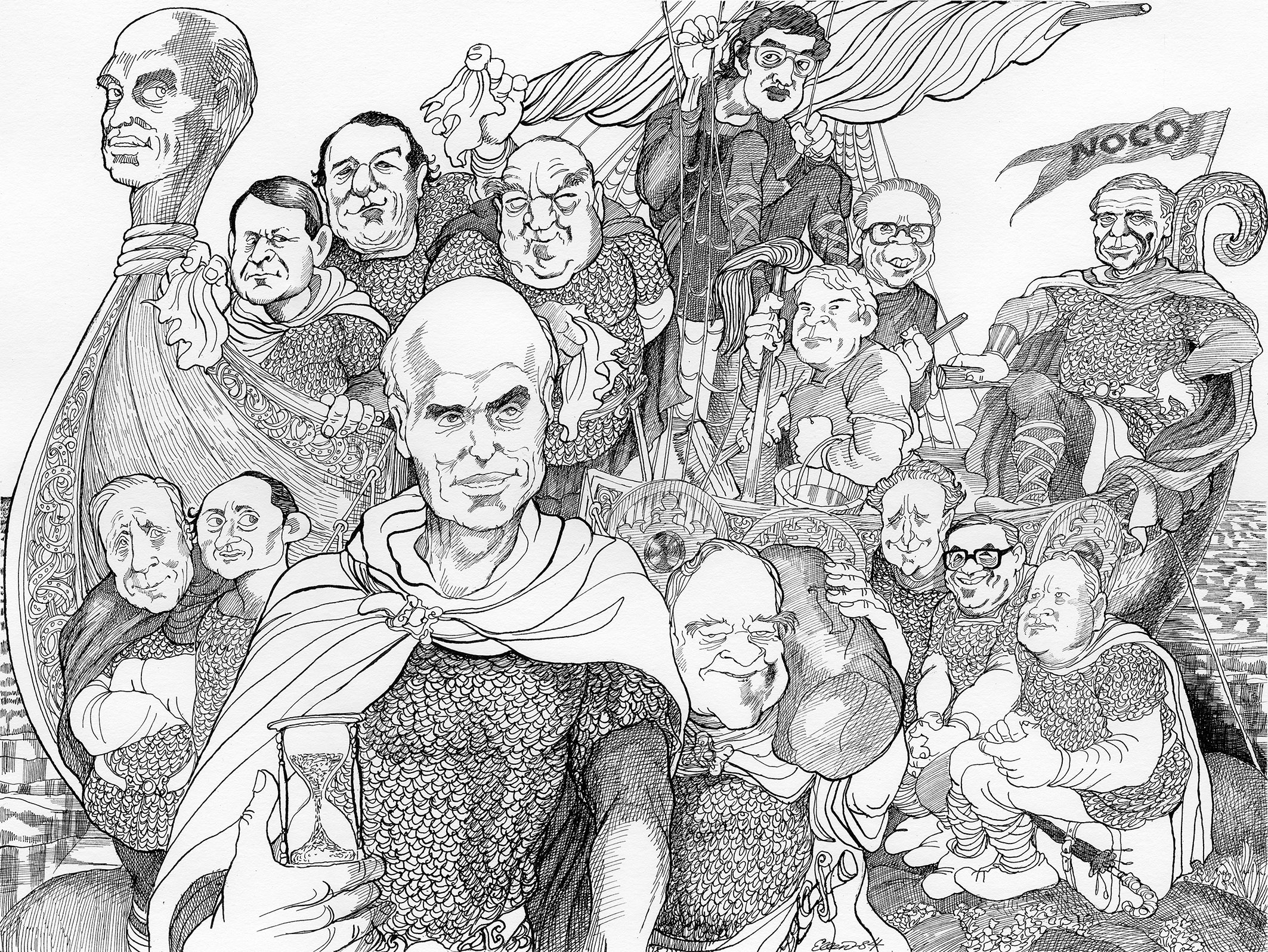 While a number of Noco's partners were nervous after the 1986 oil price slump, and ready to pull out, Olsen did the opposite and bought up interests in the company during the downturn.
After a period out of the board, he returned as Noco's chairman in 1987. His finance vice-president, Fridthjov Haavardsson, joined him as a director.
Olsen was convinced that more oil was to be found beneath Valhall's chalk formations, and was eager to make a continued commitment. He wanted to increase his holding in Noco up to 50 per cent.[REMOVE]Fotnote: Fridthjov Haavardsson's notes, 2009, "The Norwegian Oil Consortium – NOCO."
His Bonheur and Ganger Rolf companies accordingly acquired interests in February-March 1987 from Elkem A/S, Aksjeselskapet Investa, Skadeforsikringsselskapet Vesta A/S and Hafslund a.s.[REMOVE]Fotnote: Noco annual report 1987.
The price paid was NOK 8 million per five-per-cent share, giving the sellers a moderate gain on an investment of NOK 5 million each. They also freed themselves from their uncalled limited partnership liability.
At roughly the same time, AkerNorcem A/S acquired the share of A/S J Ludwig Mowinckel Rederi. This brought its holding in Noco to 20 per cent in this year.
In January 1988, the Olsen companies bought Noco interests from Orkla-Borregaard and the Storebrand group. The NOK 15 million paid per five-per-cent share reflected the fact that oil prices had begun to rise again.[REMOVE]Fotnote: Fridthjov Haavardsson's notes, 2009, "The Norwegian Oil Consortium – NOCO."
The A/S Borga subsidiary was established by Olsen at the demand of the Ministry of Finance solely to own the interest in Noco, which had by then reached 45 per cent. That provide a clearer enterprise and tax structure.[REMOVE]Fotnote: National Archives in Stavanger, Box Norwegian Oil Consortium AS & Co. Folder Budsjetter og økonomi 1988. Status Noco pr. 18.01.1989. Ref: B-NOCO-709/LD/CS. Leif Dons' memo, 1991.
All these transaction were approved by the Noco board and the Norwegian government.
Saga made another attempt to acquire a holding in Noco during November 1988, which was announced in a press release under the heading "Saga expands share capital with B shares and buys interests in Noco".
The second half of that sentence is the interesting bit in this context, and reflected a decision by Saga to acquire 30 per cent of Noco.[REMOVE]Fotnote: National Archives in Stavanger, Box Norwegian Oil Consortium AS & Co. Folder Budsjetter og økonomi 1988. Saga petroleum a.s. 18 November 1988.
Under sales agreements dated 18 November, Aker was to receive NOK 100 million for its four five-per-cent shares, while Wilh Wilhelmsen and Kosmos got NOK 25 million for one share each.[REMOVE]Fotnote: National Archives in Stavanger, Box Norwegian Oil Consortium AS & Co. Folder Budsjetter og økonomi 1988. Sales agreement between Aker A/S and Saga Petroleum a.s. Ref QJ/467. Sales agreement between Skips A/S Tudor and Skips A/S Canopus and Saga Petroleum a.s. Ref QJ/467. Sales agreement between Kosmos A.S. and Saga Petroleum a.s. Ref QJ/467.
The sales were conditional on nobody exercising their pre-emptive right to acquire the interests, the Norwegian government consenting to the transfer and the banks accepting the buyer.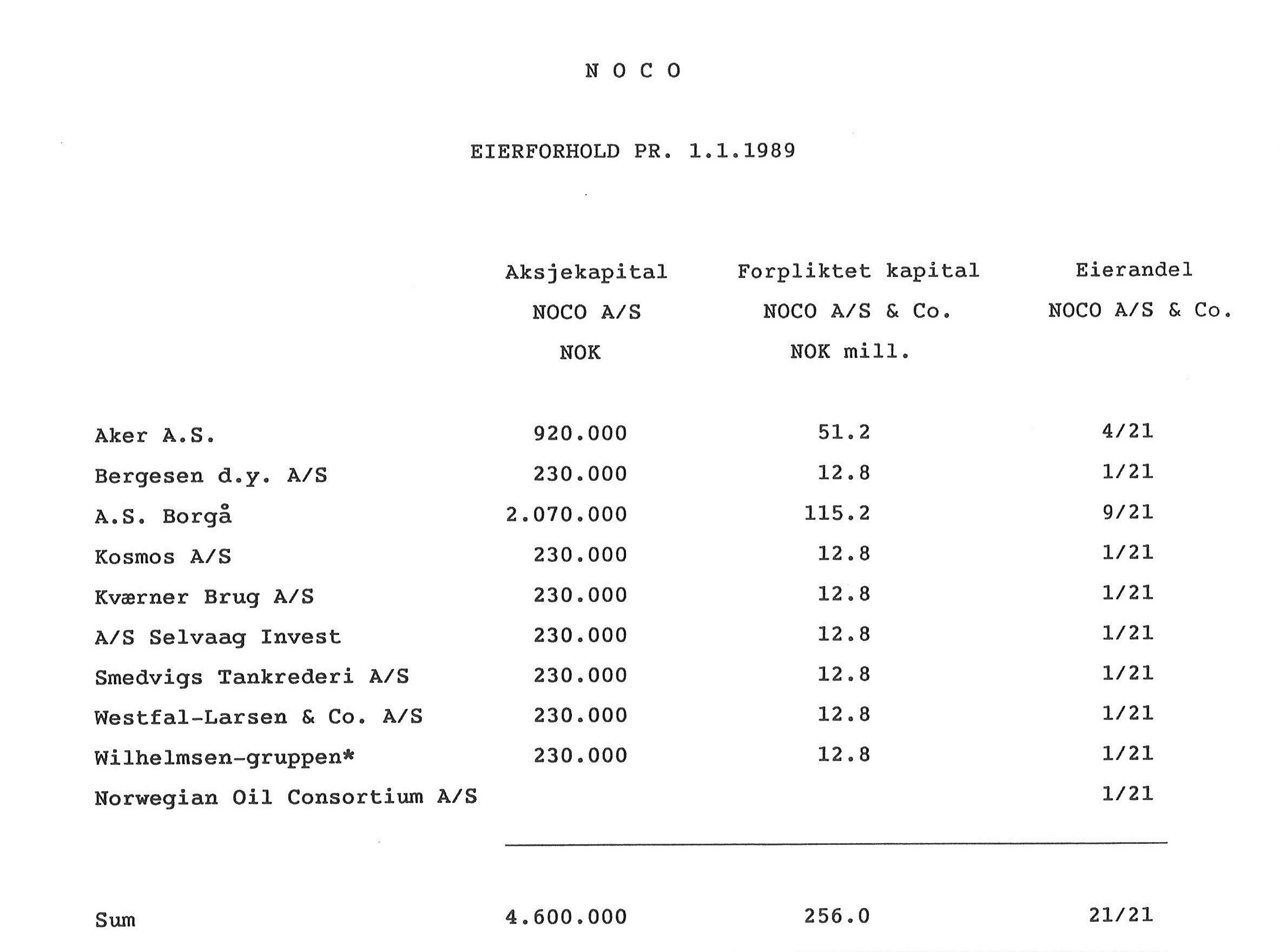 The only snag was that the board of Noco rejected the deals.[REMOVE]Fotnote: Dagens Næringsliv , 13 December 1990 "Sliter med salg av Noco". A letter of 17 November from Noco to Aker, copied to Saga, warned that the directors would investigate whether legitimate grounds existed for refusing the sale so that other Noco partners did not have to exercise their pre-emptive right to halt the transfer.
The board, with chairman Olsen in the lead, did not want to give Saga so much influence in Noco because it would change the nature of the company.
At its meeting of 29 November, the board voted to halt the transfers in order to protect the company's full freedom of action and the common interests of the partners in relation to other oil companies.[REMOVE]Fotnote: National Archives in Stavanger, Box Norwegian Oil Consortium AS & Co. Folder Budsjetter og økonomi 1988. Ref: B-NOCO-611/PGG/CS 17 November 1988. So a sale to Saga fell through on this occasion too.
Where its partners were concerned, the outlook for Noco was now brighter than ever. Production from Valhall was growing year by year. The loan to pay for the development was refinanced, reserve estimates for Valhall were upgraded, and oil and gas prices were rising.
A dividend of NOK 340 million was paid in 1990 to the gratified partners.[REMOVE]Fotnote: Fridthjov Haavardsson's notes, 2009, "The Norwegian Oil Consortium – NOCO." (See the article on the sale of Noco for the continuation of this story.)
Financing the Valhall development
The original process